New York: Doing the Exercises in Battery Park to Show the Beauty of Falun Dafa (Photos)
(Minghui.org) On May 11, 2012, a beautiful afternoon, about 500 Falun Gong practitioners from Taiwan and other Asian countries gathered at well-known Battery Park in southern Manhattan, from where one can see the Statue of Liberty and the Hudson River, to celebrate the 20th anniversary of Falun Dafa's public introduction by forming two words and doing the exercises together.
The melodious music and peaceful movements attracted many visitors that followed along to do the exercises with the practitioners.

New York City practitioners said, "Falun Gong has been taught in public for 20 years. Over 100 practitioners have recovered their health and improved their moral standards after practicing Falun Gong. We are forming the words 'Fa-Rectification' to show our great respect to Falun Gong's founder, Mr. Li Hongzhi, and to encourage people to be kind."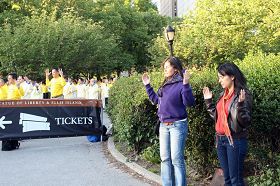 Joyce (left) is from Toronto, Canada. She learned about Falun Gong when she was studying Chinese medicine. They came to see practitioners doing the exercises at Battery Park, and she and her friend followed along to do the second exercises. They felt a strong energy field and wanted to learn more about the practice.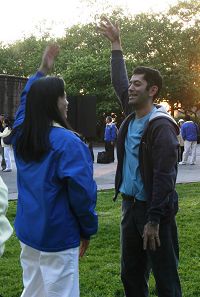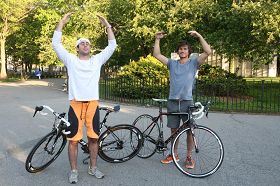 Many tourists observed practitioners' peaceful movements and followed along to do the exercises.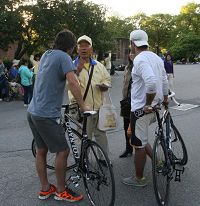 Telling passersby about the beauty of Falun Gong and the persecution going on in China
Taiwanese practitioners come from all walks of life. They are lawyers, physicians, engineers, professors, students, government officials, young and old, men and women. They wanted to tell people about the beauty of Falun Dafa from their own personal experiences at the 20th anniversary of Falun Dafa's public introduction.
Becoming Younger after Practicing Cultivation
Ms. Yang Xinyi, 77, is a retired teacher from Hualian, Taiwan. She does not need to wear glasses to read and, although she doesn't sleep much at night, she sleeps very soundly. When she was working, she looked very old, but now she looks about 50. She is also very healthy.
Before practicing Falun Gong, she always cared too much about ersonal gain. Now she knows to be considerate and tolerant.
A New Life after Practicing Dafa
Ms. Huang Jingya is in her 30s and works for a health care agency in Taiwan. Five years ago, she had ovarian cancer and had to have emergency surgery to remove her uterus, ovaries, appendix, and gall bladder. After chemotherapy, she started to think about why she had gotten such s disease at such a young age.
On July 12, 2007, she happened to find Falun Gong websites and finished reading Zhuan Falun that she downloaded for free. She saw that Falun Gong taught people to be good according to the principles of Truthfulness-Compassion-Forbearance and that practitioners could recover their health. So she went to the bookstore to buy the exercise demonstration DVD and started to practice Falun Gong.
Within six months, her condition improved. The cruciate ligament in her knees used to be broken, but now she is able to sit in the full-lotus position. She is very happy.
A Korean Practitioner Complains to His Wife That She Should Have Told Him about Such a Good Practice
Mr. Chen Keren from Korea is the CEO of an online game company in Taiwan. He said that Falun Gong improved his temper. He used to be very strict and was quick to shout at his employees. Now the relationship between his child and him has also improved.
He studied Zhuan Falun on the Internet as well as other books. He complained that his wife, who had been practicing Falun Gong for a long time, did not tell him about the beautiful practice earlier. In order to understand Zhuan Falun better, he decided to study the Chinese version, thereby improving his Chinese.
Behave According to the Principles of Truthfulness-Compassion-Forbearance
Ms. Huang Huijun is a doctor in the department of metabolism in a well-known hospital in Taiwan. After practicing Falun Gong, her life became very meaningful. She now looks at things differently. She felt that she had learned a lot from Falun Dafa and decided to come to New York City to celebrate the 20th anniversary of Falun Dafa's public introduction.
Now she is able to do things according to the principles of Truthfulness-Compassion-Forbearance every day.