Florence, Italy: High School Teachers and Students Learn Falun Gong
May 13, 2012 | By Western Falun Dafa practitioner in Italy
(Minghui.org) For the second consecutive year, Falun Gong practitioners in Italy have conducted events to promote Falun Gong to school teachers and students in Florence, Italy. From January to March 2012, Florence Language High School students practiced Falun Gong in their physical education classes. During more than 30 hours of classes, practitioners taught the students the five sets of Falun Gong exercises and introduced the goodness and beauty of Falun Dafa. The practitioners also told them about the Chinese Communist Party's (CCP) brutal persecution of Falun Gong practitioners in China, ongoing since 1999. They exposed how thousands of Falun Gong practitioners, including children, women, and the elderly, have been illegally detained and been subjected to torture and brainwashing, and even killed.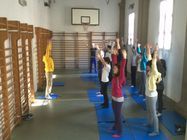 Teaching the Falun Gong exercises at a school gym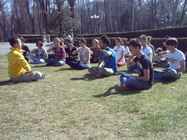 High school students practice Falun Gong at the local practice site
Both teachers and students said that they felt fortunate to learn the principle of Falun Gong – Truthfulness-Compassion-Forbearance, and they were shocked by the CCP's brutal persecution. Many students were very fond of the Falun Gong exercises and also expressed their opposition to the persecution. Their teachers shared the same view, and some of them obtained copies of the exercise instruction videos and music from the practitioners. They said that they and the students would continue to practice the Falun Gong exercises.