St. Louis, USA: Introducing Falun Gong at Cinco de Mayo Celebration (Photos)
(Minghui.org) Cinco de Mayo is a traditional Hispanic holiday. Falun Gong practitioners in St. Louis, Missouri participated in the city's Cinco de Mayo celebration on Cherokee Street on May 5, 2012. They had a booth to introduce Falun Gong and expose the ongoing persecution in China.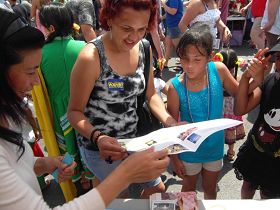 A Falun Gong practitioner introduces local Falun Gong activities to a mother and her children.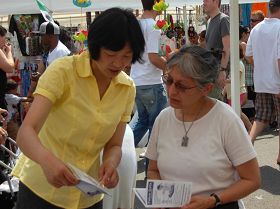 A practitioner talks about the principles of Falun Gong, Truthfulness-Compassion-Forbearance.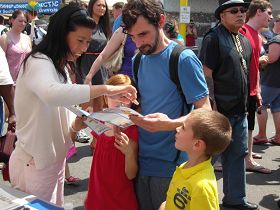 A father and his two children find out how to learn the Falun Gong exercises.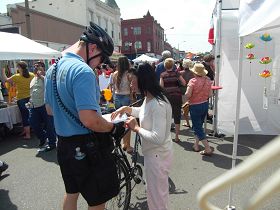 A security employee receives introductory materials.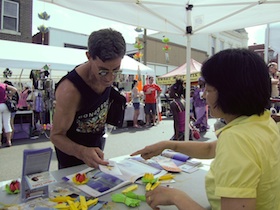 A gentleman comes back to Falun Gong booth to find out more after he saw the words, Truthfulness-Compassion-Forbearance.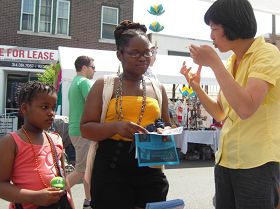 An artist who works at the gallery invites Falun Gong practitioners to introduce Falun Gong at the art gallery.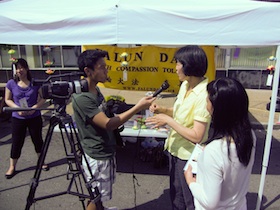 High school students interview Falun Gong practitioners at the celebration.
Many people at the celebration were interested in learning Falun Gong. They were happy to know that Falun Gong is always taught free of charge, and many took information about group practice sites in the St. Louis area.
One gentleman passed the Falun Gong booth but came back. He told a practitioner, "These three words made me come back." He was referring to the words "Truthfulness-Compassion-Forbearance" on the Falun Gong banner. He had been practicing Taichi and knew that meditation was beneficial, but he wasn't sure which kind of meditation was easy to learn. The Falun Gong practitioner invited him to do the fifth Falun Gong exercise, which is a meditation, with the practitioners. The man said that he would bring his wife too, because she was also interested in meditation.
Two high school students interviewed Falun Gong practitioners as part of their school project. The practitioners gave them an introduction to Falun Gong and told them about the persecution happening in China.
Many people were attracted to the elegant paper lotus flowers at the booth. The practitioners told them that the lotus symbolized purity and the noble character of Falun Gong practitioners currently being persecuted in China. Many expressed their support for Falun Gong. Some wanted to make donations. One woman said sincerely, "I wish I could give you my whole heart!"