France: Falun Gong Practitioners Celebrate World Falun Dafa Day at Human Rights Square in Paris (Photos)
May 13, 2012 | By a Falun Gong practitioner in France
(Minghui.org), Falun Gong practitioners in France gathered at Human Rights Square by the Eiffel Tower on May 6, 2012 to celebrate the 20th anniversary of Falun Dafa's introduction to the public, and to offer gratitude for Master's compassionate salvation, while showing the world's people the goodness of Dafa.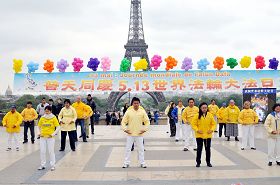 Celebrating World Falun Dafa Day, practitioners in France gathered at Human Rights Square by the Eiffel Tower to do the exercises together.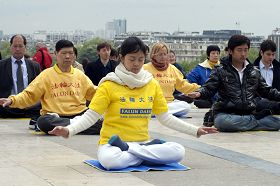 People flowed continuously to the square, busily coming and going. Having been attracted by the peaceful site, many tourists who came from all over the world as well as local people stopped to watch, and a lot took photos as a memento. Falun Gong practitioners distributed the truth clarification materials in many languages to people, many of whom carefully read the display boards, or read the leaflets. People who understood the truth signed the petition to support Falun Gong, while others enquired about the address of Falun Gong exercise sites. Some asked to learn the exercises on the spot.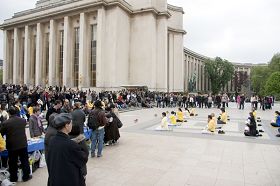 Tourists from all over the world and local people are attracted by the peaceful scene of practicing exercises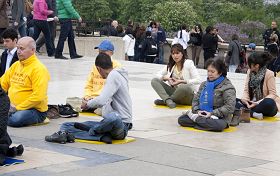 Some people immediately start learning the exercises on the spot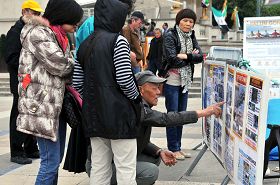 Many people carefully read the truth clarification display boards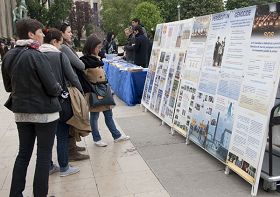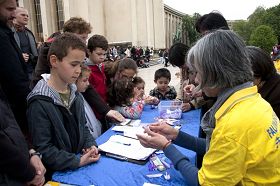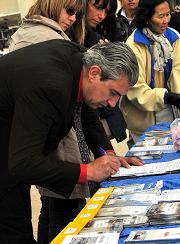 People who understood the truth sign the petition to support Falun Gong
Among the celebratory activities, Falun Gong practitioners also prepared dance and music events; there was the bamboo flute, Xiao/Chinese Vertical Bamboo Flute, Guzheng/Chinese Zither, all traditional Chinese instrument performances, and there was also a soprano soloist.
A French lady from Lyon stayed for a long time. When she learned that Falun Gong practitioners had been persecuted in China, she immediately wanted to make a donation to those practitioners that had been persecuted. Dafa practitioners showed much gratitude but refused the money. Before leaving, she took one more copy of truth clarification material to give to her journalist friend. Several French people listened to the truth clarification, and expressed support for Falun Gong practitioner's efforts against the persecution, before they left, they told the practitioners: "I appreciate this righteous action, and hope you carry on diligently."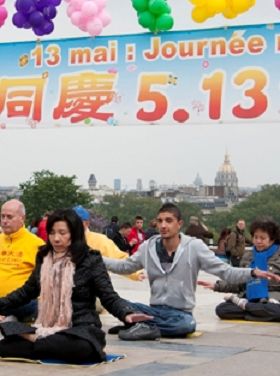 This young Frenchman, Mehmet, followed along with practitioners and learned all five sets of Falun Gong exercises
A young French person, Mehmet, learned the exercises with Falun Gong practitioners, from the first to the fifth exercise. With the fifth exercise he could even double cross his legs. After the exercise demonstration, he signed his name on the petition supporting Falun Gong.
Precious Memory
Practitioners from Paris, France gathered together to thank Master's laborious salvation through enlightening them
In March 1995, revered Master started teaching the Fa overseas in Paris, France. Seventeen years have passed, and those practitioners who heard Master teaching the Fa in person, every time when they recall this, it's fresh within their memory. Ms. Zhou was one of those practitioners who attended a Fa class Master taught at that time. She believed cultivating Falun Gong was a life changing event, most precious and most noble. She felt Master had given disciples so much, and only through her own diligence in cultivation can she honour Master.
Ms. Guan talked about her thoughts and feelings towards having obtained the Fa: "I am a practitioner who obtained the Fa in 1995. Before learning the practice my health was poor; afterwards, people around me all said I had changed, that my complexion was better and my vitality was better. I have a deep feeling that if everyone followed Falun Gong's teaching of 'Truthfulness-Compassion-Tolerance' and restrained themselves, then there would not be a need for policeman in this world. Falun Gong is able to widely spread all over the world, due to Master's teachings, due to Falun Gong practitioners' righteous belief."
Encouraging Learning the Truth to Stop Persecution
French Falun Gong Association coordinator Mr. Tang Hanlong said: "Our French Falun Gong practitioners choose the Human Right Square, a tourist attraction to hold the celebration event of May 13, in order to exhibit to the world's people how peaceful and how good Falun Gong is, to raise people's awareness. Falun Gong originated in China in 1992, and now it has spread to over 100 countries around the world, yet only China still persecutes and suppresses it. We overseas practitioners have the duty and responsibility to clarify the truth to the world's people. Until this violent persecution ends, our peaceful protests won't stop."
On this special day, Mr. Cheng appealed to the people from China: "Falun Dafa has already spread from the East to the West, this is a fact without argument. Many people in the world have already learned the truth, yet there are still some who follow the Chinese Communist Party and blindly persecute Dafa disciples. I feel disheartened for those people, and I hope they can help stop the persecution, stay away from the evil party, and assimilate to Dafa.