New York State Assemblymen Touched by The Art of Truthfulness, Compassion, Tolerance International Exhibition (Photos)
May 13, 2012 | By a Falun Gong practitioner in New York
(Minghui.org) The Art of Truthfulness, Compassion, Tolerance International Exhibition was held in the New York State Capitol on May 7-9, 2012. Dozens of state senators and assemblymen visited the exhibition and shared their feelings.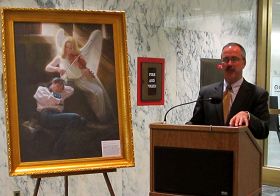 New York State Assemblyman Tony Jordan speaks at the opening ceremony.
New York State Assemblyman Tony Jordan gave a speech at the opening ceremony. He said we were fortunate to have our freedoms, but people in some countries don't. We know that freedom means responsibility. We have the responsibility to safeguard human rights, freedom of speech, and freedom of belief. The art exhibition reminds us of our responsibility.
Assemblyman Jose Rivera not only studied each piece of artwork carefully, but also took video footage of the artwork with the exhibition guide's explanations. He said he had known about the persecution of Falun Gong for a long time. He plans to play the video for his family and friends.
Tears came to the eyes of Senator Patricia Ritchie when she saw the artwork depicting mother and daughter practitioners being persecuted. She said the persecution was definitely wrong, and that everyone should have the freedom of speech and belief.
Assistants of senators and assemblymen also visited the exhibition. Mike said he agreed artworks showed the artists' character. After thirteen years of persecution, the artists didn't have hatred or bitterness. They showed brightness and kindness in their artwork, which reflected the peace and purity in their hearts.
Some assemblymen viewed the exhibition together. They quietly listened to the guide's introduction to the artworks, and put on their reading glasses to read each description. They also invited their colleagues to come when they saw them pass by.
May 8 was public hearing day, and a continuous stream of people cane to the Capitol. Many people had an opportunity to visit the art exhibition and learn the facts of Falun Gong. Some wanted to also learn the exercises. Many signed their names to condemn the Chinese Communist Party's atrocities.