Mr. Li Tuhan from Zhejiang Province Missing for Eight Years after Being Forced into Homelessness
May 13, 2012 | By Falun Gong practitioner from Jinyun County, Zhejiang Province
(Minghui.org) Falun Gong practitioner Mr. Li Tuhan from Gongqian Village, Huzhen Town, Jinyun County, Zhejiang Province was sixty-four years old. He was forced to become homeless in 2004. Since then, his whereabouts are unknown.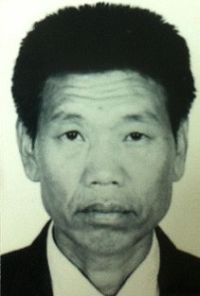 Falun Gong Practitioner, Mr. Li Tuhan
On July 20, 1999, Mr. Li and other local Falun Gong practitioners went to Beijing to appeal for Falun Gong. However, he was arrested and sentenced to two and a half years in the Shiliping Forced Labor Camp in Zhejiang Province. He rejected the brainwashing and refused to sign the "guarantee letter." Therefore, the guards of the camp seriously persecuted him with methods such as locking him on a "tiger bench" continuously for 9 days and nights, disallowing him to use the restroom, feeding him only salted rice and locking him in a confined compartment. Because of his belief in Truthfulness-Compassion-Forbearance, Mr. Li was transferred to a mental hospital by the local government officials immediately after being released from the camp. In the hospital, he was injected with unknown drugs. Under the protection of Teacher, he escaped from the mental hospital.
Mr. Li was emaciated when he arrived home. There was no one at home, since his wife had been sentenced to three years and his son to 14 years. In order to survive, he went to the local government office to request a return of his ID. (His ID was taken away when he went to Beijing.) However, the official of the 610 Office requested him to sign a "guarantee letter," to get his ID and he refused.
Mr. Li finally found a job at a local company traveling to other cities to maintain machines. On a business trip in 2004, he was arrested at a hotel since he did not have any ID.
Mr. Li was then detained and seriously beaten by the police at the Hu Town Police Station of Jinyun County. He was severely injured all over his body. Later, he successfully escaped from the detention center and became homeless. However, 8 years have passed and no one has seen him since. (One of Mr. Li's relatives told a Falun Gong practitioner that the CCP members often asked him about Mr. Li, right after he escaped from the detention center. However, they stopped doing that several years ago. He was worrying about Mr. Li and did not know his whereabouts.)
Telephone numbers for responsible organizations and people:
Huzhen Town Police Station of Jinyun County, Zhejiang Province
Police Chief: +86-578-3153377, +86-13906781376(Cell), +86-13957096706(Cell), +86-13957084299(Cell)
Policeman, Liu Zhaofa (He persecuted Mr. Li seriously): +86-13957096761(Cell)
Chief of the Domestic Security Group, Liu Xiaocai: +86-578-3233189
Please refer to the original Chinese text for more names and telephone numbers.