Perspective on how the CCP used the April 25 Peaceful Appeal to instigate public hatred of Falun Gong. People who blindly believed the party propaganda are discovering the truth about the practice.
Impressed by a practitioner's kindness, an overworked professor begins practicing Falun Dafa and experiences inner peace.
Further understanding on the requirements for this stage of Fa-rectification in light of current changes on the surface.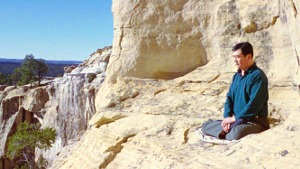 Master Li quietly watching the world from amidst the mountains after leaving New York following July 20th, 1999. (Published January 19, 2000)