Denmark: Falun Gong Protest at Chinese Embassy Reaches Ten-Year Mark
April 26, 2012 | By Shu Hui from Denmark
(Minghui.org) On April 25, 1999, a historic event took place in Beijing. Three years later, on April 24, 2002, it was the beginning of a ten-year-long continuous protest outside of the Chinese Embassy in Copenhagen, Denmark.
Back in 1999, April 25 was an historic day when over ten thousand Falun Gong practitioners gathered at the State Council Appeals Office near China's central government compound and submitted three requests:
1. Release the several dozen practitioners who had been recently detained in Tianjin City for disputing an erroneous newspaper article
2. Allow people to freely practice Falun Gong exercises
3. Allow Falun Gong books to be published
There was no shouting slogans, no banners, and no blockage to any traffic in the area. The appeal was peacefully and rationally resolved.
However, three months later, a mass arrest followed by a brutal persecution of Falun Gong started in China. As part of their propaganda campaign against Falun Gong, the Chinese Communist Party (CCP) directed a "Tiananmen Square Self-immolation" incident to frame Falun Gong, and the government concocted a list of 1400 cases alleging that practicing the exercises would cause death.
In the face of a nationwide and worldwide political propaganda campaign with numerous lies to discredit Falun Gong, the practitioners all over the world began a special journey to clarify the truth to the world's people.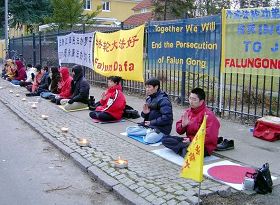 Falun Gong practitioners of Denmark protest outside the Chinese Embassy in Copenhagen.
And so, on April 24, 2002, Falun Gong practitioners of Copenhagen, Denmark started their protest in front of Chinese Embassy. Since then, the practitioners have been peacefully appealing in all weather conditions for ten years with a mission to clarify the truth to the world.
"Nothing Can Stop Me from Standing Up for Falun Gong"
Mr. Zhu is a resident of Copenhagen who started practicing Falun Gong in 1997. Having benefited from the exercises, Mr. Zhu said he felt compelled to speak up for fellow practitioners in China when Falun Gong is being slandered and persecuted.
Once a successful entrepreneur in China, Mr. Zhu's protest in front of the embassy was met with retaliation from the Chinese government. They shut down his three companies in China and dismissed all of the employees. His house in China was ransacked. Mr. Zhu is not allowed to return to China. Even his daughter was not allowed to have Chinese citizenship.
"The only thing I can do is to protest at the Chinese Embassy. Many Danish and Chinese come to the Embassy for visas or other business. They may not be aware of the persecution of Falun Gong in China. I have the duty to tell them the truth," said Mr. Zhu.
A Persistent Senior Citizen
Poul Andersen is a retired mechanic in his eighties. After practicing Falun Gong, he regained his health. Every morning, Mr. Andersen joined his fellow practitioners at the Chinese Embassy to raise awareness.
"Our practice is based on the principles of Truthfulness, Compassion, and Forbearance. I can't walk away from my fellow practitioners being persecuted in China," Mr. Andersen said.
Despite the difficulty, Mr. Andersen has been devoted to help Chinese practitioners by continuing to raise awareness. "The difficulty we have in protesting here is nothing compared to those who were jailed and tortured in China. Our purpose is to stop the persecution. I will continue the protest until the end of the persecution," he said.
Speaking out for Justice
Ms. Bao used to have various diseases before practicing Falun Gong such as gastric mucosal lesions, gallstones, cardiac arrhythmia, Coccyx fracture, etc. Only three days after attending a nine-day Falun Dafa lectures series, she began to experience physical improvements. In three months, all her diseases were gone. She returned to work and had endless energy. The whole family saw the healing effect of Falun Dafa.
Knowing how good the practice is, Ms. Bao speaks out against the unjust persecution. Ms. Bao said, "My fellow practitioners were arrested and jailed in China. It is like my brothers and sisters were jailed. Of course I must speak up for them, and call for justice."
Support from the Public
For ten years, there have been a lot of moving stories of people expressing their support for Falun Gong.
A lot of people go to a library near the Chinese Embassy. Some of the passersby would come and talk to practitioners. When the weather is cold, some would bring practitioners hot coffee to show their support. Many asked what they could do to help end the persecution.
Once, two young Chinese came to the Embassy to apply for visas. Practitioner Ms. Lu told them the truth about Falun Dafa and the persecution in China. The young man registered to quit Youth League (an affiliation of the Chinese Communist Party) with his real name.
Once a gentleman heard an introduction to Falun Gong and about the persecution in China. He said, "You are doing a great job. Keep it up!" He then said he would leave for a trip to Thailand in the afternoon, otherwise he would sit with practitioners to protest with them.
Some Chinese visitors to the Embassy encouraged the practitioners, saying, "Practice diligently and make progress." They said they read (Chinese language) Epoch Times newspaper and they knew the truth about the persecution of Falun Gong.
Once, the Embassy interfered and had the protest moved 50 meters away. The practitioners talked to the local government and judicial system. In the end, the protest site was moved back to the place facing Chinese Embassy.
The protest and truth-clarification in front of the Chinese Embassy allowed more people to learn the truth. More and more people have realized that persecution of people for their beliefs affects everyone. It is a crime against humanity so it relates to the whole world. Everyone has the duty to speak up and help stop the persecution.