Japan: Displaying the Beauty of Falun Dafa at the Cherry Blossom Festival in Toyota City (Photos)
April 17, 2012 | By a Falun Dafa practitioner in Japan
(Minghui.org) On April 7 and 8, 2012, Falun Dafa practitioners in Japan participated in the 20th Cherry Blossom Festival at Suigen Park in Toyota City, Aichi Province. The practitioners demonstrated the exercises on the lawn and taught the exercises to visitors. As part of the event's stage entertainment, the practitioners performed Chinese dance and a Lion Dance and demonstrated the Falun Dafa exercises. Their performances were well received by the audience.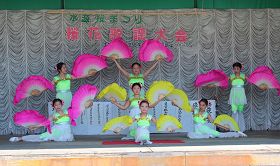 Young Falun Dafa practitioners perform a traditional fan dance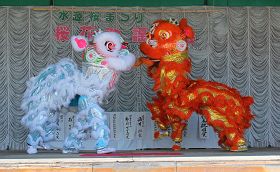 Practitioners perform a Lion Dance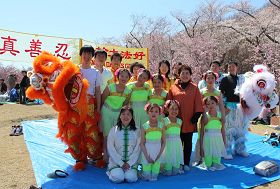 After the performance, the wife of Chairman Kito has her a photo taken with practitioners
The cherry blossoms bloomed late this year. The weather was very nice that weekend and the cherry blossoms in Suigen Park attracted many visitors. At noon on Saturday and Sunday, practitioners performed on the stage. Young practitioners from the Minghui School performed traditional Chinese dance and were met with enthusiastic applause. Peace and serenity descended on the audience during the exercise demonstration, and the spirited Lion Dance brought the practitioners' presentations to a joyful close, as the lively "lions" interacted with the audience. Many people took photos. Mrs. Kito, wife of the chairman of the host organization, was there watching the dances. She repeatedly thanked the practitioners for their performances and had her picture taken with them.
A Chinese woman originally from Shenyang, China, brought her children and her mother, who was visiting from China, to the park. They talked with the practitioners and learned the facts about the persecution of Falun Gong in China. The woman readily agreed to quit the Chinese Communist-affiliated organizations she had once joined—the Young Pioneers and the Youth League. Her mother took informational materials.