Ms. Chuang Jing from Jiamusi City Recounts Her Persecution Experience (Graphic Photos)
March 23, 2012 | By a Minghui correspondent in Heilongjiang Province, China
Name: Chuang Jing (闯静)
Gender: Female
Age: 50s
Address: Qianjin District, Jiamusi City, Heilongjiang Province
Occupation: Unknown
Date of Most Recent Arrest: September 19, 2009
Most recent place of detention: Jiamusi City Forced Labor Camp (佳木斯劳教所)
City: Jiamusi
Province: Heilongjiang
Persecution Suffered: Detention, forced labor, beatings, torture, home ransacked
(Minghui.org) Falun Gong practitioner Mr. Ma Xuejun and his wife, Ms. Chuang Jing, from Jiamusi City, Heilongjiang Province have been arrested, sent to forced labor camps and sentenced to prison terms multiple times in the past ten years.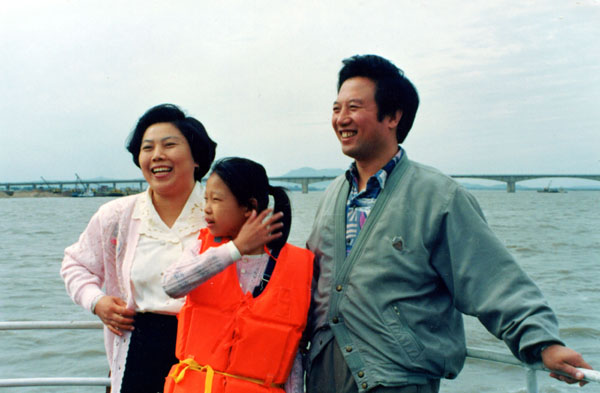 Falun Gong practitioner Mr. Ma Xuejun, his wife Ms. Chuang Jing and their daughter
Mr. Ma Xuejun was an officer at the Jiamusi Railroad Bureau. After he was arrested in 2002, he became disabled in his lower back and legs. He lost several of his teeth. Later, he was sentenced to ten years of imprisonment. He was not released until he was tortured to the brink of death.
Ms. Chuang Jing was arrested in 2009. She was sent to a labor camp and was not released until she was tortured to critical condition. Presently, she is suing the evil perpetrators to the procuratorate.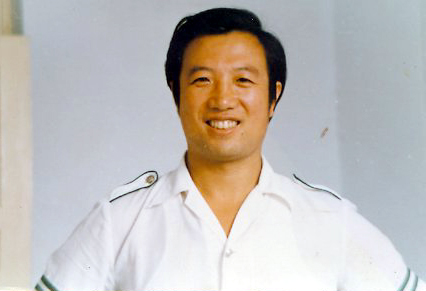 A Happy Ma Xuejun after he began practicing Falun Gong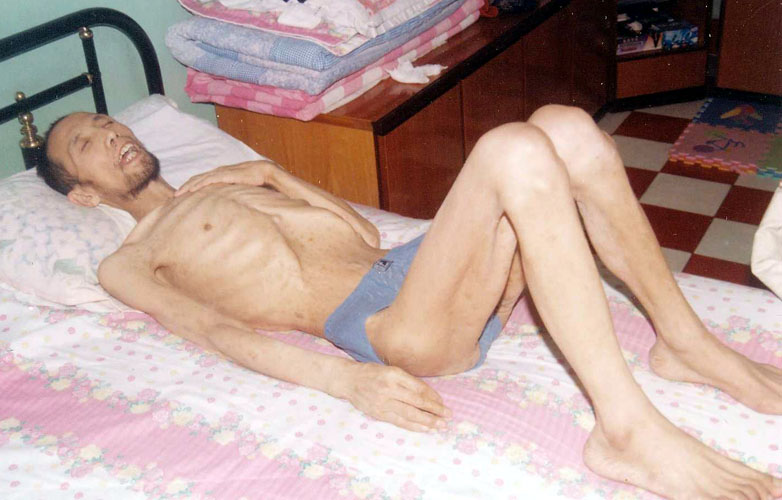 Ma Xuejun tortured into disability and the brink of death by the communist regime agents (Picture taken at the end of 2003)
The following is Chuang's account of the persecution she was subjected to after she was arrested in 2009 and tortured to critical condition:
"On the morning of September 19, 2009, I went to visit a practitioner who lives in Jianan. Fifteen other practitioners joined us. We started studying Master's books.
Around 8:00 a.m., somebody suddenly knocked on the door. The host opened the door and several people barged in, confiscating our books and personal belongings. I asked who they were. One of them said that they were the police.
Ordered by political head Li Wensheng from the Nangang Police Station, several female officers dragged me to a police car by pulling my arms and legs. I hung on to the car door with my feet and refused to get in. Officer Liu Jinshan kicked my feet hard.
At the Nangang Police Station, several people, including Li Wensheng, pushed me into a room and threw me on the cold floor. I only had one pair of pants on and I was very cold.
Several perpetrators, including Li Wensheng, planned to send me to the detention center around 7:00 p.m. Several officers handcuffed me at my back. Then they grabbed my handcuffs, dragged me to a police car and sent me to the Jiamusi Detention Center. Because I had not been given a physical examination, they refused to admit me. I was then sent to a hospital. In this process, they still did not give me a physical exam and they did not even let me get out of the car. They took me to Cell #209 at the detention center without any paperwork.
After one day and one night, the cold and hunger caused pain and discomfort all over my body. I could not fall asleep. My abdomen was in so much pain that I could not lie down or sit down, and a significant amount of blood came out from my lower body.
While I was at the detention center, I became progressively more emaciated and could not fall asleep at night. I made multiple requests to the Nangang Police Station to send me for a physical exam. They kept delaying over and over again and still did not send me for the physical exam. The section chief Yu told me, "We will give you the physical exam on October 8." However, I never heard back from him after that. On the morning of October 14, Yu led a group of people, came to my cell, and said, "You have been sentenced to forced labor camp for one year."
On October 12, Li Qingbo from the Jiamusi City Police Department came to the detention center and took four other practitioners and me to the Jiamusi Forced Labor Camp. A female doctor at the labor camp told me that my heart and blood pressure were not normal. Li Qingbo told the labor camp to detain me anyway.
During the more than two months I was held at the labor camp, I suffered from abdominal pain and hemorrhage. My legs were swollen and stiff. The perpetrators from the labor camp extorted my family out of over 100 yuan for a "physical examination". Due to the symptoms of severe health issues, they released me on November 9.
After I returned home, I was not able to recover for a long time. By March 2010, months after being released, I still could not take care of myself. I suffered from severe anemia and dehydration and passed out several times. My heart beat was over 130. I did not recover from critical condition until after two months. Even now, I am still not fully recovered.
My mother-in-law, sister and daughter were running around between the police station, police department, Jiamusi City Detention Center and the labor camp. My eighty-year-old elderly mother-in-law was beaten to the ground by the police and my daughter was also beaten by them.
In the past two years, people have kept encouraging me to sue the evil perpetrators. I have officially sent in my request to the procuratorate and related organizations to bring the evildoers to justice."
Related Reports:
Deputy Division Head of the Jiamusi Railroad Bureau Persecuted and Disabled--His Wife Also Arrested (Photo)

Former Jiamusi Railroad Bureau Official Mr. Ma Xuejun Recounts the Persecution He Endured for the Past Seven Years (Photos)