After Ten Years of Imprisonment, Mr. Shi Yanwu Tortured to Death in Shijiazhuang Prison
March 15, 2012 | By a Clearwisdom correspondent from Hebei Province, China
Name: Shi Yanwu (石彦武)
Gender: Male
Age: 40
Address: Xingtang County, Shijiazhuang City
Occupation: Unknown
Date of Death: February 28, 2012
Date of Most Recent Arrest: March 2002
Most Recent Place of Detention: Shijiazhuang Prison (石家庄监狱)
City: Shijiazhuang
Province: Hebei
Persecution Suffered: Electric shock, illegal sentencing, beatings, hung up, imprisonment, torture, force-feedings, physical restraint, home ransacked, interrogation, detention
(Clearwisdom.net) Falun Gong practitioner Mr. Shi Yanwu was tortured to death at the age of 40 on February 28, 2012 in Shijiazhuang Prison (also called Hebei Province No. 4 Prison). The details of Mr. Shi's death are under investigation.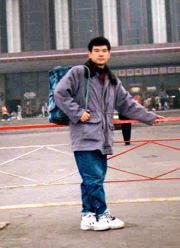 Mr. Shi Yanwu
In March 2002, Lu Guofa, chief of the Domestic Security Division of the Xingtang County Police Department, along with Xingtang County 610 Office personnel, used various tactics, such as bribing traitors, and following and monitoring practitioners, to arrest practitioners Mr. Gai Zhenli, Mr. Shi Yanwu, and others. The police confiscated computers and other personal belongings worth more than several thousand yuan. The two practitioners were brutally beaten in the police department and the detention center. They were force-fed with salt water, shocked with electric batons, beaten with belts, and hung up.
In May 2002, Mr. Shi and Mr. Gai were sentenced to 10 years and 12 years in prison, respectively. They were later taken to the Shijiazhuang Prison. Mr. Shi would finish his prison term in March 2012. On February 27, his family received a notice from the prison authorities, saying that he was dying. Mr. Shi was in a deep coma when his family got to the hospital. He passed away the next day, February 28. The prison authorities claimed that Mr. Shi suffered from high blood pressure and a brain stem hemorrhage. In an attempt to not let the family take away the corpse, the prison authorities forced them to agree on the spot to cremation. They later paid 30,000 yuan (~4,735 USD) to Mr. Shi's family for compensation.