Canada: Falun Gong Practitioners Participate in St. Patrick's Day Parade in Toronto (Photos)
(Clearwisdom.net) The 25th annual St. Patrick's Day Parade in Toronto was held on March 11. For the sixth year, the Divine Land Marching Band, consisting of local Falun Gong practitioners, was invited to perform at the parade.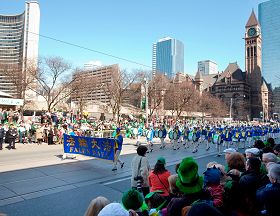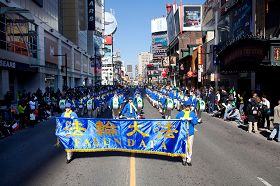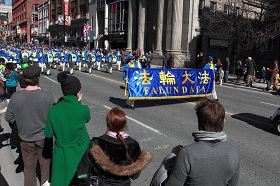 The band was warmly received by the spectators. "The Falun Dafa Band is the best ever!" some people shouted.
Mr. Zheng from Taiwan videotaped the band's performance. He said: "This band has a righteous energy field. I've seen Falun Gong practitioners all over the world. I have friends who practice Falun Gong, and they are all nice people. I admire them."
Anna, a local citizen, told the reporter that she likes this band from the bottom of her heart. "I know very well who they are, and what they do. I know their stories and the truth of Falun Gong. I've watched their performances since they first participated in this parade. I wish them the best of luck."
Several Chinese tourists were excited because they had never seen a Falun Gong band in China. They videotaped the band's performance for their family members in China.
Margot participated in the Canadian National Exhibition parade entry, which was in front of the Divine Land Marching Band during the parade. Margot took a lot of pictures of the band. She said that she has participated in many parades, but had never seen such an energetic band. "Their music inspired me," she said.