The Brutality of Guards in Hebei Province Women's Prison
March 11, 2012 | By a Clearwisdom correspondent from Hebei Province, China
(Clearwisdom.net) Wu Hongxia, former political instructor of Ward No. 6 and current head of Ward No. 2 of the Hebei Province Women's Prison, has taken extreme measures in the persecution of Falun Gong practitioners. She has resorted to gangster-like cruelty typical of the Chinese Communist Party (CCP).
Torture re-enactment: Shocked with electric baton
Ms. Chai Junxia Beaten and Tortured
In January 2009, when practitioner Ms. Chai Junxia refused to answer the roll call in order to protest the persecution, Wu Hongxia ordered her into an office. Wu struck Ms. Chai in the face with an electric baton, and when Ms. Chai shouted, "Falun Dafa is good!" Wu also struck her back with the electric baton. Ms. Chai's back was severely bruised, and her neck was wounded as a result of the electric shocks. However, she refused to give up her belief. Wu then ordered inmates Guo Wei and Ma Guofeng to beat her. She was then handcuffed to an iron gate and hung up, with only the tips of her toes touching the ground. After being left in this position, exposed to the winter cold, for the whole night, Ms. Chai's right arm suffered permanent injury and is still often painful.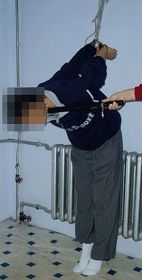 Torture re-enactment: Handcuffed and hung up
In February 2009, Wu Hongxia attempted to "transform" Ms. Chai. She ordered the inmates monitoring Ms. Chai to beat her. When none of the inmates wanted to take the lead, Wu threatened that none of them would receive reduced terms unless they cooperated and followed her orders. She prohibited Ms. Chai from purchasing daily necessities or making phone calls and restricted her use of the restroom. She even prevented her from drinking water. Later, she made a deal with inmates Nie Yaling and Qiu Xiaoli to abuse Ms. Chai in exchange for a reduction in their sentences. The two inmates often berated and threatened Ms. Chai. Qiu never received any reduction of her four-year prison term.
Later, guards placed Ms. Chai in solitary confinement. They stripped her completely, leaving her shivering in the cold. She had to keep moving to stay warm. She was also subjected to sleep deprivation. Inmate Li Na and another one with surname Shi were assigned to monitor her around the clock.
After Ms. Chai returned to the ward, these two inmates received orders from Li Hongzhen, head of Ward No. 6, to torture her further. The inmates stretched her arms across two bed frames and also forced her to stand in the hallway for 60 consecutive hours, not allowing her to close her eyes. Her eyes were injured and often hurt.
Practitioners Repeatedly Persecuted for Their Faith
Wu Hongxia resorted to brutal means in her attempt to "transform" Ms. Zhang Yueqin, a practitioner from Tangshan in her 60s. She forced Ms. Zhang to watch videos slandering Falun Gong, mentally abused her, and demanded a written guarantee statement. When Ms. Zhang refused to comply, Wu ordered her to stand for a prolonged period of time, until 1 a.m. Later, she ordered inmates Li Na and Zhou Anshu to stab Ms. Zhang with needles. When asked how one could do such terrible things, Zhou answered, "We had no choice. These were Wu's orders."
Wu Hongxia also planned to place practitioner Ms. Liu Shuzhen in solitary confinement. Some non-practitioner inmates knew that Ms. Liu was innocent, and she was spared only after the inmates knelt down to beg Wu to be lenient. Afterward, Ms. Liu was still handcuffed to a steel gate in the extremely cold hallway for the whole night. Her feet were frostbitten due to the freezing temperatures. The psoriasis that she had suffered from prior to practicing Falun Gong, which disappeared after she started practicing, also resurfaced.
Wu Hongxia ordered inmates to berate, whip and hit Ms. Liu in the face. Guard Wang Heli took part in the persecution.
Between March 9 and July 14, 2009, prison officials in the No. 2 Ward held Ms. Wei Fenglan, a practitioner from Laishui County, Baoding, in isolation to undergo brainwashing sessions. Because she refused to be "transformed," she was handcuffed and hung up on the window bars. When Ms. Wei went on a prolonged hunger strike to protest the persecution, the guards ordered inmates to brutally force-feed her, resulting in injuries and rendering her unable to walk.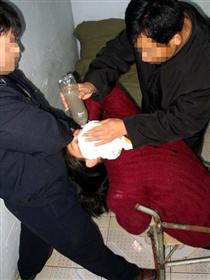 Torture re-enactment: Force-feeding
One of the guards responsible for persecuting Ms. Wei was Duan Xuefeng, deputy head of Ward No. 6 (badge number 1335190).
When practitioner Ms. Yang Xiaochun was seen doing Falun Gong exercises, she was taken to Duan's office. Duan tried to shock her with an electric baton but hurt herself instead. She then continued to threaten Ms. Yang.
Cao Yaqing, the new deputy head of Ward No. 6, confiscated Ms. Yang's copies of articles by the founder of Falun Gong.
Cao Yaqing also joined political instructor Zhang Shuhong and guard Li Hui in an attempt to coerce Ms. Zhang Xiuhua, a practitioner from Zhangjiakou in her 60s, to give up her belief. Li was especially vicious. When Ms. Zhang refused to watch a video slandering Falun Gong, Li yelled at her, "Why are you still alive? You'd better smash your head against the wall to kill yourself." Li also ordered Li Jinhua, an inmate in Ward No. 17, to kick Ms. Zhang.
Wu Hongxia also berated Ms. Zhang and ordered the inmates to do the same. Ms. Zhang passed out several times from the extremely high blood pressure as a result of the persecution.
Brutal Persecution in Wards No. 13 and No. 14
It is common for inmates in Ward No. 14 of Hebei Province Women's Prison to beat and curse practitioners. The inmates often kick practitioners and use mop handles to hit them. No one is allowed to talk to anyone else, so little information is available about the persecution in that ward.
Kong Xiaofei, originally a Ward No. 14 guard, was promoted to be the Education Section political instructor of Ward No. 13, and was responsible for "transforming" Falun Gong practitioners in 2008. She boasted: "I am not afraid if my acts are exposed on the Clearwisdom website."
In May 2011, a specialized section was formed under the order of Yang Yufen, deputy warden, and Ge Shuguang, head of the Education Section, to further persecute and "transform" practitioners. Practitioners steadfast in their belief in Falun Gong were put into this section.
Ms. Wei Fenglan was held in an isolated room between June 9 and August 29, 2011. Guards ordered Yang Yanping, a collaborator from Tangshan, and others to torture her for over 80 days. When Ms. Wei subsequently went on a hunger strike to protest the persecution, she was force-fed and given six bottles of intravenous injections per force-feeding. She is now in critical condition.
Hebei Province Women's Prison address:
P.O. Box 55, Branch Box 2, Luquan, Hebei Province, China 050222.