Dafa Embraced in India: Introducing Falun Dafa at Nampally Vyayama High School in Hyderabad (Photos)
March 01, 2012 | By a practitioner in India
(Clearwisdom.net) With Master's blessings, I met the principal of Nampally Vyayama High School and told her about Falun Gong. I also told her about the good things our practice has brought to other schools in my city.
After getting approval from her superiors, she asked me to introduce Falun Gong in her school, which has more than 700 students. I was touched when she said that the practice should help her school, as the students are mostly from poor backgrounds. As promised, I went there for two weeks daily and taught the practice. The response was very good, and all the teachers and the principal were happy to notice that the students were changing. I presented a copy of Falun Gong and the exercise CD to the principal.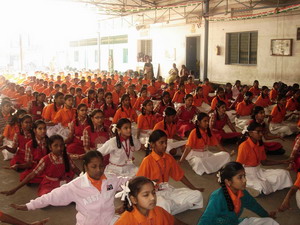 A practitioner who was visiting our city also participated by doing the exercises in the school. She was happy that her time in our city was so well spent.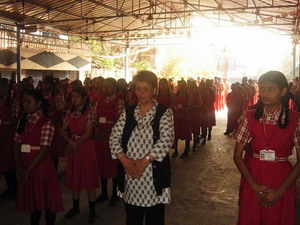 Shankarji Girls Memorial High School Honors Falun Dafa
On January 26, India's Republic Day, the students at Shankarji Girls Memorial High School, where Falun Gong is practiced daily, were asked to do the exercises in the presence of all the dignitaries of the All India Industrial Exhibition and its exhibitors. One of the girls listed the benefits of the practice for the school. All the local practitioners participated in this great event. The organizers thanked us for teaching such a good thing. Many parents too came to know about our practice because of this. No other spiritual practice was given such a great honor except our Falun Dafa.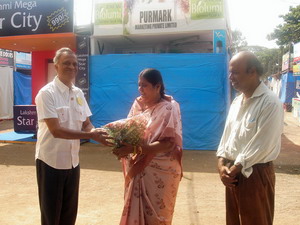 Two practitioners presenting a flower bouquet to the principal of Shankarji Girls Memorial High School
A Falun Gong Booth at the Exhibition
The All India Industrial Exhibition lasted for 45 days. At the Falun Gong booth this year were pictures of the persecution of Falun Gong in China, as well as of other local and international events. Many people (including doctors, advocates, architects, and eminent personalities) who took a Falun Gong flier at the exhibition later contacted us to learn more about our practice. They were distressed to learn about the persecution and dismayed that such a thing could be happening today in China, which boasts of economic growth. Others commented that, although they knew how cruel the Chinese Communist Party is, they could not believe that the Party kills its own citizens and spreads lies to stop such a great spiritual practice, which would have benefited millions. Visitors to our booth were very happy that practitioners were doing their best to spread the practice without expecting any money or anything in return. They gave us contact information for principals of international schools, private schools, and their corporate offices and asked us to introduce the practice there as well, to which we agreed.
Putting My Heart into Spreading the Fa and Following the Path Laid by Our Master
After I understood the greatness of our practice, I decided to spread it to every nook and corner. I realized that to spread such a practice requires commitment but not lip service. I also understood that it is a divine assignment, entrusted to each of us by our great Master. I am thankful every day for having the opportunity to do this. This understanding has helped me a lot to take time out daily from my work hours and make people aware of the practice as much as possible. In fact, this also helped my profession in unexpected ways, and Master was kind enough to protect me in many ways.
Spreading the Fa at a Marathon Run
When I heard that the "Environmental Protection Marathon" was being conducted in our city recently, I went. I did the exercises and distributed fliers to many people. I met someone who had learned about the practice in the US. He was sorry to find out that the persecution is going on and told his friends about it in my presence. Another person, who had visited China in the past, told me that he knew about Falun Gong. I met the city mayor, film directors, many employees, and students. I happened to meet the president of The Federation Andhra Pradesh Chambers of Commerce and Industries, who appreciated the universal principles of Truthfulness, Compassion and Forbearance. He asked me to introduce our practice to their association members. I promised him that I would.
One day, I went with my family to a visit a historical site. While we were looking around inside a palace, my grandson pulled me outside. Just then, I saw two Chinese ladies about to enter the palace. Without wasting any time, I gave them each a flier in English and when they read out the words "Falun Dafa," I felt happy for such a thing to happen. I distributed the fliers to other visitors, who included some foreigners.
The Great Effect of Sending Righteous Thoughts
One time I was having tribulations and was at one stage unable to move for a while. Suddenly, I realized that the time for sending forth righteous thoughts was nearing, so I sat down and sent forth righteous thoughts. Immediately, I came out of my difficult situation and became perfectly well and thanked our respected Master many times.
I remembered what our revered Master said in Zhuan Falun, Lecture Four:
"We have said that good or evil comes from a person's spontaneous thought, and the thought at that moment can bring about different consequences."
Had I neglected sending forth righteous thoughts at that time, probably it would have been a different situation for me. I also came to an understanding that if we follow Master's instructions completely— doing the three things daily, considering others first, looking within, and remembering that we are practitioners—we can overcome any sort of complex situation or tribulation.
Many thanks to our great Master for protecting me and saving me always. My greetings to other practitioners. I would also like to thank the other practitioners who help me on my cultivation path with their guidance according to our Master and Falun Dafa.
If anything inappropriate is found, please feel free to correct me.