Ms. Guo Wenshuai on Hunger Strike to Protest Eight Years in Prison and Denial of Family Visitation
February 08, 2012 | By a Clearwisdom correspondent from Jilin Province, China
(Clearwisdom.net) In September of 2011, Ms. Guo Wenshuai was arrested by officers from the Domestic Security Division of Jilin Province. Three months later, she was sentenced to eight years in prison. On December 23, 2011, she was taken to the Jilin Province Women's Prison (also known as the Changchun City Heizuizi Women's Prison). Since she was arrested, she has been on a hunger strike. Therefore she is very weak, and she was transferred to the prison hospital soon after being imprisoned. So far, her family has not been allowed to visit her.
On September 2, 2011, a police officer from the Jilin Province Domestic Security Division went to Ms. Guo's son's school, Chaoyang District Experimental Middle School in Changchun City, and asked the son's teacher, Liu Yinghui, for their home address. Later, Liu called Ms. Guo to confirm the address. At 3:00 p.m. that day, six police officers from the Jilin Province Domestic Security Division arrested Ms. Guo after having monitored her home.
At the Changchun City Third Detention Center, Ms. Guo went on a hunger strike to protest the persecution. Every day she shouted, "Falun Dafa is good! Persecuting Dafa won't be tolerated by Heaven!" Guards used a torture device called "Beibeijia" and put shackles on Ms. Guo to torture her. Each day, twenty four hours a day, she was tied to a board and could not move. Every day, two groups of inmates, six people per group, were assigned to monitor her. Twice each day, four male inmates dragged her out of her cell to force-feed her.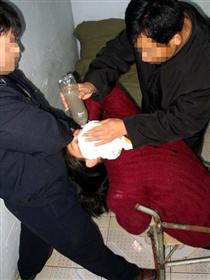 Torture re-enactment: force-feeding
In December of 2011, agents from the Chaoyang District Court, Changchun City stated that Ms. Guo had been sentenced to eight years in prison. Later, at the Changchun City Intermediate Court, the verdict was upheld.
At 4:00 p.m. on December 23, officers from the Changchun City Intermediate Court asked Ms. Guo's family to pick her up, but Ms. Guo was secretly taken to the Jilin Province Women's Prison instead. She was very weak and had to be carried in. Later, she was taken to the prison hospital, and her family members were not allowed to visit her.
Her mother, who is blind in both eyes, frequently went to the Changchun City Party Committee to ask for her daughter's release. Ms. Guo's mother was frequently arrested and taken to detention centers and other unknown locations. Those places, however, all refused to admit her. One day, a police officer kicked her twice.
At present, police officers lurk outside of Ms. Guo's apartment building or hide inside, where they plan to arrest more people.
Here we want to tell all the personnel involved in the persecution: Do not act as pawns for the Chinese Communist Party in persecuting Falun Gong practitioners. Otherwise, you will ruin yourselves and your families as it is an unchanging truth that benevolence is rewarded and evil is punished. For your own sakes, you all should immediately stop doing bad deeds and become good people.