Shen Yun Touches the Hearts of Thousands in Phoenix: "It's Too Beautiful to Miss!"
(Clearwisdom.net) Shen Yun Performing Arts presented a successful three-show run at the ASU Gammage, a landmark center for the arts on the campus of Arizona State University in Phoenix, on January 27-29, 2012. With its masterful display of traditional tales from Chinese history and touching stories of courage set in contemporary China, the renowned classical Chinese dance and music company touched the hearts of thousands, leaving audience members in awe of the beauty rooted in 5,000 years of civilization.
Events coordinator: "It was like a dream!"
In the audience at the sold-out Sunday matinee was Michelle Ortega, a special events coordinator at an upscale retirement community in Phoenix, who brought a group of friends and residents to the performance.
"The show was beautiful; it was moving. The women were so graceful and feminine, kind of like feathers dancing in the wind. And the colors—it was like a dream!" she gushed after the show, adding that the performance was "maybe like heaven … or maybe like a fairytale, just so colorful."
Ms. Ortega felt a deep connection to the traditional and spiritual aspects of the show. "I think no matter what religious background you came from, or lack thereof, you still felt a spiritual connection to the show," she said, noting the universal themes of "ethics and morality and beauty and family" displayed through story-based dance and vocal solos throughout the performance.
Seeing authentic Chinese culture presented in this way "makes me want to know more about it and makes me want to be a part of it," observed Ms. Ortega.
"I think every culture should pay attention to this and the way they [Shen Yun] are bringing back the tradition of the Chinese culture," she added. "I think every culture should pay attention to that, because we all have a history, no matter what nation you come from, and the Chinese people have brought back their culture in such a beautiful way that it's an example."
"It's not just artistic, it's educational," noted Ms. Ortega.
"It's a crime not to go [see Shen Yun]. It's too beautiful to miss!" she concluded.
Economist: "This is the future freedom of China"
Mr. Sullivan, an economist and an avid traveler, took in the Sunday afternoon performance with his wife.
Having learned about Falun Gong, a spiritual discipline of mind-body cultivation originating in ancient China, on a trip to Australia, Mr. Sullivan was eager to find out more about traditional Chinese culture closer to home.
"I think the show is wonderful. I didn't realize that it was going to tell so many stories—I just thought it would be dancing, but it's so much more than that. The stories are wonderful, and I love Chinese history," said Mr. Sullivan during the intermission.
"It's beautifully done," agreed Mrs. Sullivan. "I am also very interested in what they are saying about Falun Gong," she added, referring to the dance piece called "The Choice," which reflects upon the ongoing persecution of Falun Gong by the Chinese communist regime. "You know, I don't think very many Americans know much about that, and I think it's an important message that [Shen Yun is presenting], as well as beautiful dancing," said Mrs. Sullivan.
"I am so supportive of what [Shen Yun] is doing because this is the future freedom of China, hopefully," added her husband, noting that he felt a "wonderful appreciation of the art but also a deep feeling of respect for the [Chinese] culture and the history" from seeing the show.
"It's entertainment, but it's also education," concluded Mr. Sullivan.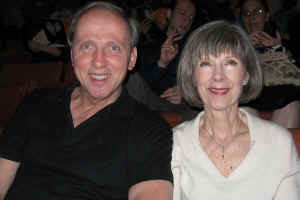 Mr. and Mrs. Sullivan
Business owner: "I like it!"
Cabinet maker and business owner James Hearne attended the the Saturday evening performance, and was very glad he did.
"I love the costumes, and the dancing is beautiful," he enthused during the intermission. With an ear for music, he was also impressed with the Shen Yun Orchestra. "The music is very good … I am really enjoying it," he said, noting the unique fusion of Western philharmonic and traditional Chinese sounds.
"It's very different than what I've experienced," observed Mr. Hearne, adding that he didn't know very much about Chinese culture prior to the show.
"It's very interesting—it's a very old culture," he concluded. "I like it!"
Shen Yun Performing Arts has three equally large companies that tour the world simultaneously with the mission to revive the 5,000 years of divinely inspired, traditional heritage of China. For more information and a schedule of upcoming performances, visit http://www.ShenYunPerformingArts.org.