Banaras, India: Falun Dafa Introduced at India's Oldest Residential University (Photos)
February 23, 2012 | By a practitioner in India
(Clearwisdom.net) Falun Dafa was introduced during the International Seminar on Physical Education, Recreation, and Yogic sciences, held at Banaras Hindu University from January 19 to 21. A Falun Dafa practitioner, who was invited to participate, made a PowerPoint presentation focusing on the health benefits of Falun Dafa and concluded with a truth-clarification video. For three days, practitioners hosted a display of posters, banners, books, magazines, flyers, and other materials. A workshop was also conducted for students to begin learning the five sets of exercises. Many students and teachers from different parts of India and Mauritius attended. During the workshop, practitioners were invited to introduce the practice in other areas of India.
Banaras Hindu University (BHU), the oldest residential university in India, established in 1916, has a picturesque 1,400-acre campus housing 3 institutes. Banaras, one of the oldest cities in the world, besides being a cultural and religious centre in India, has remained from ancient times a great seat of learning.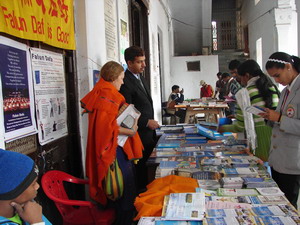 Practitioners at the display table at the International Seminar
On February 5, the Academique, a discussion group from the Law School of BHU, invited a practitioner to take part in a human rights symposium to focus on the topic "The Persecution of the Falun Dafa Principles and Practice in China." The session lasted around 3 hours. Three students each made a ten-minute presentation on the topic, followed by a PowerPoint presentation and talk by a Falun Dafa practitioner. The music video chronicling the July 20, 1999 start of the persecution by the Chinese Communist Party moved those in attendance, including the journalists who had come to cover the event. Five to six students shared their findings and impressions on the persecution of Falun Dafa in China.
It was indeed amazing and inspiring how students had worked within a short time to make solid presentations. Students and audience members asked several questions about the persecution, expressing their shock and empathizing with the practitioners being persecuted in China. The Dean of the Faculty of Law proposed a vote of thanks and gave a moving talk about human rights and the persecution of Falun Dafa in China. The following day, articles about Falun Dafa and the persecution were printed in at least 6 local newspapers in the local language, Hindi.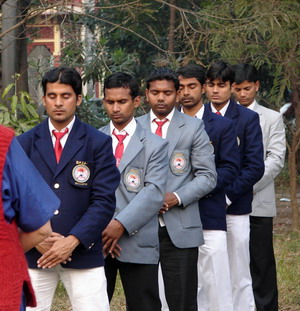 Practitioner teaching the exercises to Banaras Hindu University students