Allahabad, India: Raising Awareness about Falun Dafa and the Persecution (Photos)
February 23, 2012 | By a practitioner in India
(Clearwisdom.net) On December 16 & 17, two Falun Dafa practitioners raised awareness about Falun Dafa in Allahabad City in the state of Uttar Pradesh in India. They demonstrated the exercises in the Company Garden of Allahabad and told people about the practice and about the ongoing persecution of Falun Gong in China. People were very receptive. Two youngsters learned all five exercises on the second day and took the exercise CD with them.
An article was also published in the Hindustan Times, one of the biggest English daily newspapers in India. The reporter who wrote the article was very keen to learn the exercises. He bought Dafa books, took the CDs, and learned the exercises from one of the practitioners.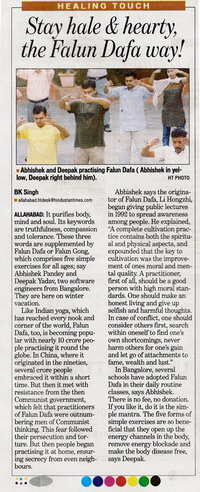 Article from the Hindustan Times
Both practitioners also visited the local branch of Dainik Jagaron, the biggest Hindi daily newspaper in India, and told the reporters about the practice and the persecution. The article was published on the local page of the newspaper. Below is a rough translation of that article.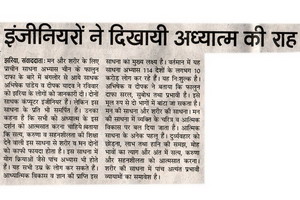 Article from Dainik Jagaron
Translation:
Engineers Show the Way to Spirituality
By Jhariya, Reporter: On Sunday, practitioners Abhishek Pandey and Deepak Yadav, who came here from Bangalore, told the people of Jhariya about Falun Dafa, which is an ancient Chinese practice of mind and body. Both practitioners are software engineers, but they are devoted to this practice as well. They said that everyone would benefit from following the philosophy of this spiritual practice, which teaches Truthfulness, Compassion, and Forbearance and is very beneficial for the mind and body. This practice includes five sets of exercises and can be done by people of all ages. The main focus of this practice is spiritual growth and Enlightenment.
Falun Gong is presently being practiced by 100 million people in over 114 countries. This practice is free. Abhishek & Deepak said that Falun Dafa is easy and effective. Basically, it can be divided into two parts: the practice of the mind and the practice of the body. In the practice of mind, the focus is on one's character and spiritual growth. There are many aspects to it: letting go of bad habits, the understanding of loss and gain, letting go of sentimentality, and in the end assimilating to Truthfulness-Compassion-Forbearance. The practice of the body includes five exercises that are very effective.