Firsthand Account: Liu Haiyi from Jiamusi City Persecuted in Raohe County
February 18, 2012 | By Liu Haiyi, Falun Gong practitioner from Jiamusi City, Heilongjiang Province
Name: Liu Haiyi (刘海毅)
Gender: Male
Age: 38
Address: Jiamusi City
Occupation: Driver
Date of Most Recent Arrest: December 13, 2011
Most Recent Place of Detention: Raohe County Detention Center (饶河县看守所)
City: Shuangyashan
Province: Heilongjiang
Persecution Suffered: Beatings, home ransacked, interrogation, detention, harassment
(Clearwisdom.net) Mr. Liu Haiyi is a Falun Gong practitioner in Jiamusi City, Heilongjiang Province. On December 13, 2011, he was illegally arrested by plainclothes police officers while he distributed video disks of the Nine Commentaries on the Communist Party. He was taken to the Raohe Detention Center, where he was brutally beaten. He was released 15 days later. Below is Mr. Liu's personal account of the persecution he suffered:
My name is Liu Haiyi. I am 38 years old and am a driver in Jiamusi City. I started to practice Falun Gong in 1998. I used to have a bad temper, but I became nice after I started the practice.
Kidnapped and brutally beaten
On December 13, 2011, when I was distributing video disks of the Nine Commentaries on the Communist Party near the Police Department of Raohe County, a plainclothes officer saw me and chased after me. Then another officer caught me, and they both pushed me down to the ground. They then took me to a police precinct. They handcuffed me to a chair and interrogated me. I refused to answer any of their questions.
In the middle of the night, they took me to the Raohe Detention Center and I shouted loudly, "Falun Dafa is good!" Five or six prisoners pulled me into a cell and started to punch and kick me. One of them punched me in my left eye, and suddenly my eye was bloody and I couldn't open it.
Ever since I was brought into the police precinct, I was handcuffed all of the time, even when I was sleeping.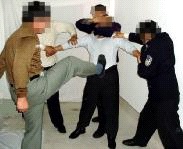 Torture demonstration: Brutally beaten
On December 14, 2011, when Jia Wei, the director of the detention center, was on duty, I told him, "Last night many prisoners beat me. I need to go to the hospital." In the morning, they drove me to a hospital. I told whomever I met in the hospital, "They beat me because I'm a Falun Gong practitioner." After a medical examination, I was taken back to the detention center.
I had come to the area on a business trip with my colleague. As he could not find me, he went to the police precinct to ask about me, and he was told that I had been arrested. Policemen also went to the hotel and searched my room. They confiscated two electronic books.
Sent to a secret location for interrogation
In the morning of December 17, 2011, Liu Lixin, head of the Domestic Security Division of Raohe County, and several other policemen brought me out of the cell with my hands cuffed and my head wrapped, and pushed me into a car. I had no idea where they drove me to. When I was in a room, they took the cover off my head. Even though it was daytime, all of the windows were closed with curtains. Three beds were in that room and it looked like a hotel room. They handcuffed me onto a heater radiator.
One policeman wanted to know where I got the disks of the Nine Commentaries from, but I didn't answer. During the interrogation, they often changed the person who interrogated me. At night, they cuffed my feet. The next morning, they covered my head again and took me back to the detention center.
I had been detained at the Raohe County Detention Center for 15 days. On December 28, 2011, I was sent to the Raohe Police Department, where they forcibly took my picture and my finger prints, and measured my height. Later, my relatives were allowed to bring me back home.