Gangbei Prison Officials Refuse to Release Engineer Zhou Xiangyang, Who Is In Critical Condition (Photo)
February 10, 2012 | By a Clearwisdom correspondent from Mainland China
Name: Zhou Xiangyang (周向阳)
Gender: Male
Age: 38
Address: Tangshan, Hebei Province
Occupation: Cost Engineer at the Third Tianjin Railway Survey and Design Institute Group in Tianjin
Date of Most Recent Arrest: March 5, 2011
Most Recent Place of Detention: Gangbei Prison (港北监狱)
City: Tianjin
Persecution Suffered: Interrogation, shocks from electric batons, sleep deprivation, forced labor, brainwashing, illegal sentencing, beatings, hanging by handcuffs, imprisonment, solitary confinement, torture, forced-feedings, physical restraint, detention, denial of restroom use.
(Clearwisdom.net) It has been learned that Falun Gong practitioner Mr. Zhou Xiangyang from Tianjin, who was brutally tortured in detention, had been detained in the internal hospital of Gangbei Prison. He is believed to be in critical condition because of severe torture suffered in prison. However, prison officials still refuse to release him.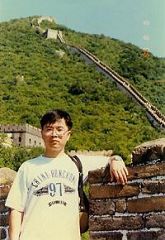 Falun Gong practitioner Zhou Xiangyang: Engineer for the Third Survey and Design Institute, Tianjin
Mr. Zhou was an engineer for the Third Survey and Design Institute of Tianjin. Because he remained steadfast in his belief in Falun Gong, he has been subjected to severe persecution by the Chinese Communist Party (CCP). He was arrested again on March 5, 2011 and taken to Gangbei Prison. The guards there brutally tortured him by restraining him in painful postures. They stretched his arms and legs into different positions, and then shackled them to iron hoops on the floor for extended periods of time. He could not straighten up after being released from the restraints. In addition, the guards beat and shocked him with electric batons. In order to rescue Mr. Zhou, 2,300 people from his hometown in Changli County, Qinhuangdao City signed a petition demanding his release and calling for the prison officials to be held responsible for the inhuman treatment of Mr. Zhou.
Zhou Xiangyang's wife, Ms. Li Shanshan, sued the Gangbei Prison in order to rescue her husband, who had committed no crimes, but she in turn was persecuted again. Police officers from the Tangshan Domestic Security Division forcibly took her away from her booth in the New Tiandi Supermarket on October 29, 2011. She was later sentenced to two years of forced labor. Upon hearing about Ms. Li's arrest, 528 people in Tangshan signed a petition demanding her release.
On the morning of December 5, 2011, Mr. Zhou's two lawyers requested to meet with him. They showed Gangbei Prison officials a copy of the related legislation, which explained that the state protects the right of lawyers to consult with their clients. However, the prison officials paid no attention to this fact and refused to let them see Mr. Zhou. The lawyers then contacted prison director Li Guoyu (cell: +86-13920446469) by phone, but when they reached Li by phone, he shirked his responsibility by saying that they had called a wrong number.
The lawyers then called the complaint center at the Second Branch of the Procuratorate in Tianjin (+86-22-88222000, +86-13212078358) and reported that officials from Gangbei Prison were forbidding them from visiting their client. An officer with the surname Ma then threatened them.
At 3:00 p.m., the lawyers appealed at the Second Branch of the People's Procuratorate inTianjin. They showed documentation from the Ministry of Justice to a prosecutor with the surname Ma. However, Ma made an excuse and said that it was not his duty, and told them to go to other departments. The two layers appealed at the administration office of Tianjin Prison at 4:00 p.m., and submitted related evidence and documents.
Mr. Zhou's attorneys still have not been able to see him, although more than three months have passed. His wife Ms. Li Shanshan was sentenced to two years of forced labor and is currently detained in the Shijiazhuang Women's Forced Labor Camp. Mr. Zhou's elder brother Zhou Xiangdang and his wife Li Xiangling, along with three other Falun Gong practitioners who helped them before, were also arrested by the authorities.
Relevant phone numbers:
Tianjin Prison Administration Office: +86-22-27351374
Office of the director at Tianjin Justice Bureau: +86-22-23082621
Meng, head of the Gangbei Prison Hospital: +86-22-62071039
Related Articles:
"Mr. Zhou Xiangyang in Critical Condition--His Mother Calls for Justice (Photos)" http://www.clearwisdom.net/html/articles/2011/5/5/124948.html
"Ms. Li Shanshan Arrested by Tangshan Domestic Security Division" (Photos) http://clearwisdom.net/html/articles/2011/11/11/129382.html
"Zhou Xiangyang's Brother and Sister-In-Law Illegally Detained In Langfang City Brainwashing Center" http://www.clearwisdom.net/html/articles/2012/1/5/130529.html