An Innocent Person Sentenced, His Family Sues the Presiding Judge
December 30, 2012 | By a Minghui correspondent from Hebei Province, China
(Minghui.org) Mr. Yang Guoguang is a practitioner from Gaotuo Village in Chahe Town, in the Fangrun District of Tangshan City. He was persecuted by the Chinese Communist Party many times in the past because of his belief. On February 25, 2012, Mr. Yang was again arrested, and his personal belongings were confiscated. After being detained for nine months, he was sentenced to four years of imprisonment. His family recently filed a suit against the presiding judge.
Improvement After Practicing
Prior to practicing Falun Gong, Mr. Yang had many bad habits, including a bad temper and fighting, drinking, and smoking. He also did not do his job well and often left work without approval. When he began practicing in late 1996, he followed the teachings in Zhuan Falun and changed significantly.
Through studying the Fa and doing the exercises, his health improved. He also stopped smoking and drinking. Mr. Yang said that Falun Gong gave him a positive attitude and taught him to be compassionate and tolerant toward others. He worked hard and was elected a model worker three times. Many people said that Falun Gong changed him.
Because he practiced Falun Gong, he was sent to a forced labor camp and lost his job. He later worked as an independent construction worker and charged very low rates. Although he is now in a detention center, there is still construction work in the village that awaits him.
Mistreated in Detention Center and Forced Labor Camp for Clarifying the Truth
Jiang Zemin started the vicious and systematic persecution of Falun gong in 1999. Because Mr. Yang did not give up the practice, village officials detained him in a small hotel to prevent him from going to Beijing. He was transferred to the security division where he worked ten days later.
Village officials and Chahe Police Station agents went to Mr. Yang's home at 7:00 p.m. on October 12, 2000. They arrested him and confiscated his personal belongings. Mr. Yang and his wife, Ms. Wang Shuxia, were taken to the police station and tortured. Mr. Yang was tied to a utility pole and kept in the cold without food until 1:00 a.m. Ms. Wang was handcuffed behind her back and her feet were chained. She was ordered to kneel down. When she refused, the persecutors applied two electric wires to her thumbs and shocked her, causing intense pain. This continued until 1:00 a.m. The agents then took the couple to the Fengrun District Detention Center.
Torture reenactment: Electric shocks
Because of the couple persisted in doing the exercises in the Fengrun District Detention Center, agent Jiao Xibo handcuffed Mr. Yang's hands behind his back using a pair of special, small handcuffs. It was very painful, and every minute felt like a year to him. Several months later, Mr. Yang was sent to Hehuakeng Forced Labor Camp in Tangshan City.
Mr. Yang was detained in Hehuakeng Forced Labor Camp for two years. He was forced to sit up straight with his eyes looking straight ahead every day. His hands were crossed over each other and placed behind his head, and his legs had to remain straight and still. The stool was about four inches wide, four inches high, and twenty inches long. He was not allowed to drink or use the toilet. He was only allowed to sleep for a very short amount of time. In addition, he was forced to do slave labor and had to wrap 10,000 pairs of chopsticks every day. He was pressured to write a guarantee statement, promising to give up the practice; otherwise, the agents shocked him with electricity. He was also tied up using fine nylon ropes and forced to look forward at a wall with his eyes open. Other inmates beat him, tied him, and hung him up. They also stomped on his head.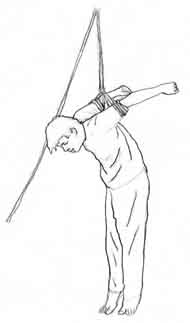 Torture reenactment: Tied up with a rope and hung up
After the two-year labor camp term expired, officials did not release Mr. Yang, since he did not give up his practice. His term was extended by a month, and he had a terrible case of scabies. It was very itchy. Mr. Yang's employer picked him up afterward. The mistreatment continued and police watched him as he worked. He left there and returned home several months later.
Before the Beijing Olympic Games in 2008, thirty plainclothes police agents went to his home on July 10 to arrest him. He was forced to leave home again.
Arrested Again and Sentenced
Zhang Zhaodan (Chahe Town Police Station deputy head) and Li Zuoquan (Gaotuo Village Party head), along with other agents, went to Mr. Yang's home again on the morning of February 25, 2012. They went into the neighbor's yard first and jumped over the wall to get to Mr. Yang's home. His personal belongings valued at thousands of yuan were confiscated. The agents arrested him and took him to the Chahe Police Station, then to a detention center.
After Mr. Yang had been detained for nearly six months, he was tried in Fengrun District Court, at 9:00 a.m. on August 6, 2012. He was sentenced to imprisonment for four-and-a-half years.