South Australia: Practitioners Receive Top Prize in Christmas Parade—Plus Renee's Miraculous Story (Photos)
(Minghui.org) Practitioners in South Australia recently participated in a local Christmas Parade and received the top prize. In the past decade, as their schedule allowed, South Australia practitioners participated in up to four Christmas parades every year. Their waist drum team and Divine Land Marching Band are parade favorites, and the practitioners have won many prizes.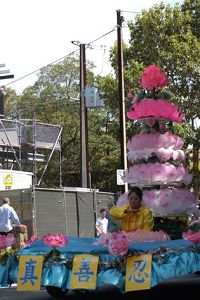 South Australia practitioners' decorated float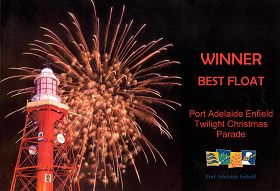 For the 3rd consecutive year, Adelaide City Hall Awards Practitioners a Top Prize
Many people know Falun Gong well, as the local practitioners have established several practice sites. The one at Enfield is 10 years old now and offers free exercise instruction on every Tuesday.
In 2003, Jessie and her youngest daughter Renee came to the Enfield practice site to learn Falun Gong. Renee was found to have a serious illness when she was 8-months old and doctors concluded that she would be disabled for life. Before she came to the practice site, she had been using a wheelchair for 25 years and had never attended school. After Jessie learned Falun Gong, Renee also wanted to try. Though Jessie did not know how Renee was going to do the exercises, she was sure that Falun Gong would help her daughter. When Renee came to the practice for the first time, she tried the exercises by leaning against a wall. Then, after practicing Falun Gong for one month, she could walk by herself for about 20 minutes. Several months later, she had fully recovered and grew taller--even taller than her mom. Such a miracle shocked Adelaide City Hall.
Falun Gong enjoys wide community support in South Australia. Starting in 2010, the practitioners received recognition for their Christmas parade procession every year. In 2012, with support from city hall, the practitioner hosted the international "Truthfulness-Compassion-Forbearance" Art Exhibit twice in Adelaide.