Bulgaria Holds Its Second Falun Dafa Cultivation Experience Sharing Conference
(Minghui.org) Practitioners in Bulgaria held their second Falun Dafa Cultivation Experience Sharing Conference on November 25, 2012 in Plovdiv, the second largest city in the country. Practitioners gathered to discuss how they had improved their character based on the principles of Truthfulness-Compassion-Forbearance.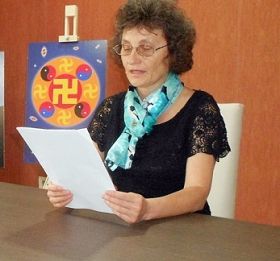 Kerachka, a practitioner from Bourgas shares her cultivation experience
Kerachka, a practitioner from the coastal city of Bourgas, shared how translating articles has broadened her understanding of the Chinese Communist's Party's (CCP) persecution of Falun Gong. She now has a better idea of the pain and suffering that practitioners in China have endured for the past 13 years.
She now involves herself in many local truth-clarification activities, with the hope that more people will learn the facts about Falun Dafa. Kerachka began on the path of cultivation in 2010. She said that after years of searching for the truth, she finally found it in Dafa.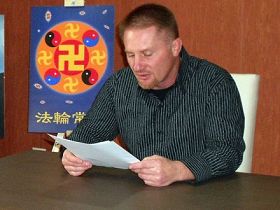 Ivan from Stara Zagora shares his cultivation experience
Ivan, who is from the city of Stara Zagora, has been practicing Falun Dafa for about eleven months. He had previously practiced a variety of self-help methods. As soon as he started practicing Falun Dafa however, he knew that it was exactly what he had been looking for. In the beginning, he did the exercises by himself, but as time went by, more and more people joined in. Group exercises are now held every morning in a local park.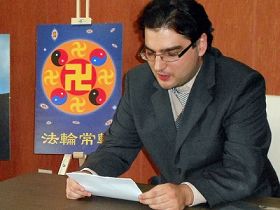 Zahari from Sofia shares his cultivation experience
Zahari, from Sofia, has been practicing Falun Dafa for over ten years. He emphasized the importance of studying the Fa well and gave examples of how studying the Fa had helped him improve when dealing with various tribulations.
A practitioner named Darinka shared her experience of losing both her husband and son when she was 24 years old, and how that experience took a drastic toll on her health. She talked about being on all kinds of medications, just to make it through the day. However, after practicing Falun Dafa for six months, she recovered and no longer needed any medicine. She said that her doctor was astonished by her rapid recovery. She credited Dafa for turning her life around and making her both confident and strong.
Zahari, a coordinator for the Bulgarian Falun Dafa Association, said that Falun Dafa has been spreading in Bulgaria for more than a decade. More and more people have recently been coming to the exercise sites to do the exercises. Practicing the exercises outdoors has helped those with predestined relationships to learn about the practice.
In 2012, Bulgarian practitioners held Falun Dafa Information Day activities across the country. In addition, state-run radio and TV stations aired Falun Dafa feature stories, which helped raise public awareness of the serious human rights abuses happening in China.
On Memorial Day for Victims of Communism (February 1, 2012), practitioners were invited to a talk-radio station called "Sofia." Practitioners introduced Falun Dafa and talked about the CCP's persecution. On June 10, a television station featured a twenty-minute introduction of Falun Dafa during prime time.