Spain: Two Thousand People Sign Petition Against CCP Organ Harvesting Crimes in Three Hours (Photos)
December 20, 2012 | By a Falun Dafa practitioner from Spain
(Minghui.org) At four o'clock on the afternoon of December 15, 2012 Falun Dafa practitioners in Spain held a signature drive at the plaza in the center of the commercial district in Saragossa City. The petition called for an end to the persecution in China and the Chinese Communist Party's live organ harvesting crimes.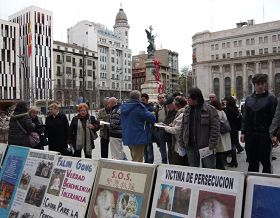 Saragossa residents stop to learn about the CCP's cruel torture of Falun Gong practitioners.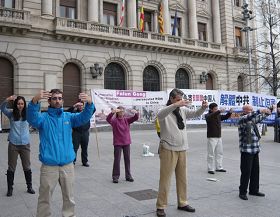 Falun Dafa practitioners demonstrate the exercises.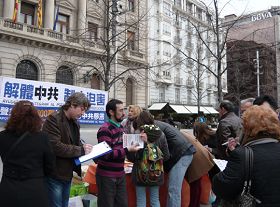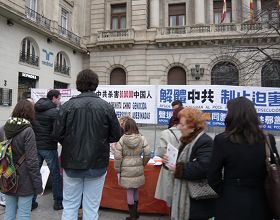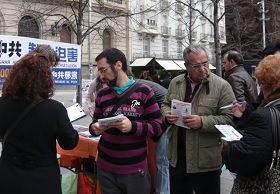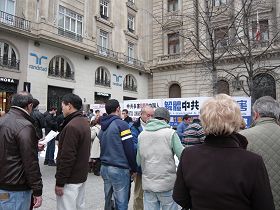 Residents of Saragossa sign to support Falun Gong.
The practitioners hung banners at the plaza and set up tables for the petition. Next to the tables, there were display boards depicting the Chinese Communist Party's torture of Falun Gong practitioners. Some practitioners demonstrated the five sets of exercises on the other side. Many people stopped to learn more.
When they saw the brutal tortures and persecution of Falun Gong practitioners, people were appalled and condemned the CCP. Many people signed the petition to support Falun Gong.
A Chinese man saw the banners from the other side of the plaza and came over to the tables. He accepted a book Nine Commentaries on the Communist Party and a flyer. He saw the people signing the petition to support Falun Gong and said, "I didn't know there were so many people supporting Chinese people's human rights. The Communist Party is really bad! I hope it collapses immediately. " He also announced his withdrawal from the Communist Party and its affiliated organizations.
Another Chinese woman also quit the CCP and its affiliated organizations during the event. She said, "The corrupt Communist officials have put the whole country into their pockets. I am not going back to China anytime soon. Nothing is safe there. You don't know how you will die in China."
A professor from the University of Saragossa read the flier and immediately signed the petition. He said, "Live organ harvesting is an unprecedented crime. It can't be allowed to exist. The Communist Party is the source of the evil. We must destroy it."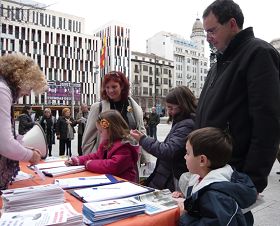 A family of five signs to support Falun Gong.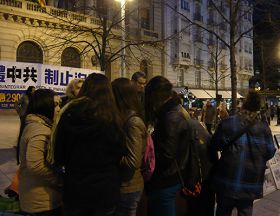 As evening comes, people are still stopping to support Falun Gong.
A couple and their three children came to the table. The mother patiently explained to them what is going on in China and then the whole family signed the petition. A group of young students walked by. After they heard about the persecution, they called upon each other and signed the petition.
About 2000 people signed the petition during the 3-hour signature drive.