Japan: Falun Gong Participates in the 15th Annual Ginkgo Festival of Sobue (Photos)
November 26, 2012 | By a practitioner in Japan
(Minghui.org) On November 23, 2012, Falun Dafa practitioners participated in the 15th Annual Ginkgo Festival of Sobue in Inazawa City, Japan. Practitioners demonstrated the five gentle Falun Gong exercises, and taught the exercises to anyone who asked.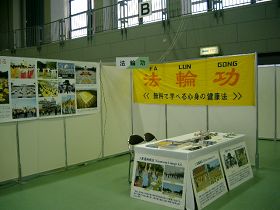 Falun Dafa booth at the 15th Ginkgo Festival of Sobue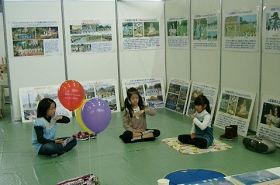 A primary school student (middle) learns the Falun Dafa sitting meditation
The mayor of Inazawa City, Mr. Toshiaki Ohno, passed by the practitioners' booth and thanked them for participating in the event. The Practitioners presented the mayor with a copy of Zhuan Falun and several brochures about Falun Dafa. The mayor expressed his appreciation.
After viewing pictures showing the popularity of Falun Dafa throughout the world, as well as the practitioners' exercise demonstration, a number of people expressed an interest in learning Falun Gong. Practitioners answered everyone's questions and gave out informational fliers.
A fourth grade student and her two friends stopped by the Falun Dafa booth and asked if someone could teach them the exercises. After learning the first two sets of exercises, the youngsters all said that they felt wonderful. In the afternoon, the fourth grader came back. After viewing photos of a Western girl doing the fifth exercise, the sitting meditation, she asked if she could learn it too. As the practitioner was teaching her, the young girl paid very close attention. She seemed to have no problem at all sitting in the lotus position.
The town of Sobue is known for having more than 10,000 ginkgo trees, some more than 100 years old. Sobue produces about 30 percent of the total annual output of ginkgo nuts harvested in Japan.
The Ginkgo Festival is held in late autumn every year.