Mr. Zheng Xiangxing in Critical Condition after Torture in Baoding Prison
November 20, 2012 | By a Minghui correspondent from Hebei Province, China
Name: Zheng Xiangxing (郑祥星)
Gender: Male
Age: Unknown
Address: Tanghai County, Hebei Province
Occupation: Business owner
Date of Most Recent Arrest: February 25, 2012
Most Recent Place of Detention: Baoding Prison (保定监狱)
City: Baoding
Province: Hebei
Persecution Suffered: Illegal sentencing, torture, detention
(Minghui.org) Falun Gong practitioner Mr. Zheng Xiangxing, an honest business owner, was arrested by Tangshan City police officers on February 25, 2012. Since then, 3,000 local residents have signed and left their thumbprints on petitions calling for Mr. Zheng's release. Yet the authorities have ignored the public will and continue to disregard the law. Mr. Zheng was illegally sentenced to 10 years in prison and taken to Baoding Prison. As a result of the torture he was subjected to, Mr. Zheng suffered a cerebral hemorrhage. Without any of his relatives being present, he was sent to the First Central Hospital by the Baoding Prison authorities for an operation in which two sections of his skull were removed. Mr. Zheng is currently unconscious and the medical experts have suggested ceasing treatment.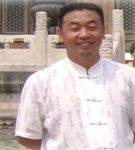 Mr. Zheng Xiangxing
At 8 a.m. on October 28, 2012, officials from the Baoding Prison hurried to Mr. Zheng's home in Tanghai County, Tangshan City, to pick up his family members. The prison officials said that Mr. Zheng fell down on the afternoon of October 26 and suffered from severe bleeding of the brain. He then underwent an operation on his skull without any of his family being present. According to the recorded video provided by the prison authorities, Mr. Zheng threw up three times on the evening of October 26, before he went to the restroom, where he fell due to extreme weakness and lack of strength. When he fell, he first sat and then he lay on his back. He was not taken to Baoding First Central Hospital until 11 a.m. the next day. When Mr. Zheng arrived at the hospital, his pupils were dilated and he was incontinent. There was a 15-hour time delay in treatment.
A section of bone was removed from each side of Mr. Zheng's skull during the surgery. The hospital authorities said that the section on the right side of the skull was removed to ease the intracranial pressure, that the skull was fractured on the left side, which caused the intracranial hemorrhage with nearly 100ml of blood. They also mentioned that the cause of the fracture on the left side of the skull was a severe blow to the head. It is possible that Mr. Zheng already had the head injury before he fell. His continuously throwing up before going to the restroom was possibly caused by the increasing pressure due to the intracranial hemorrhage. The fact that he first landed on his seat and then the back of his head hit the ground meant that he did not fall very fast. Such a fall would not have fractured his skull. If he was injured in the fall, the site of the injury would have been to the back of his head.
Mr. Zheng is currently in critical condition. His family members have requested his release, but prison authorities have not agreed. Many officers are guarding the hospital. The Tangshan local public security authorities also showed up. The outside world cannot reach Mr. Zheng's family members, and a lid has already been put on any news about Mr. Zheng.
Mr. Zheng is the owner of a small appliance store in Tanghai County Ten Farm. He and his wife never sell counterfeit products and provide good service and delivery to their customers. They install and set up the television sets they sell until the customers are satisfied. Since they run an honest business, their business was booming. Local people all recommend his store for electric bikes and refrigerators, because he never sells counterfeits and also voluntarily fixes his customers' bikes. He guarantees his customers peace of mind.
A little after 6 a.m. on February 25, 2012, Li Fuguo, the head of Tangshan County Domestic Security Division, and more than 10 officers from Ten Farm Police Station, led by the director, got a female police officer to trick Mr. Zheng into opening the door to his home by lying, saying she needed him to fix her electric bike. They then arrested Mr. Zheng. Meanwhile, a group of people confiscated many things from Mr. Zheng's store. The local people were very angry and said that the police were a group of "super bandits."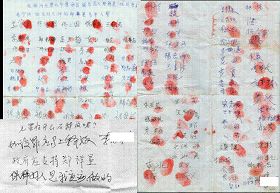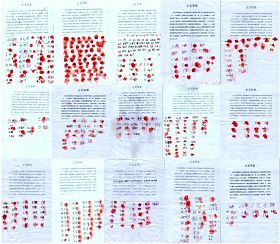 The local residents collected signatures and thumbprints requesting Mr. Zheng's release
A petition was signed by 562 local residents who put down their thumbprints requesting the release of Mr. Zheng, a generally acknowledged good person who follows the principles of Truthfulness-Compassion-Forbearance. This has generated great repercussions within and outside of China. After learning that Mr. Zheng was in critical condition as a result of torture, 1,200 residents from two counties and eight townships in Tangshan and Qinhuangdao again petitioned the authorities and requested his release. Since the authorities insisted on making false charges against Mr. Zheng, 979 residents from one county and six townships in Tangshan City petitioned for Mr. Zheng's immediate and unconditional release.
The CCP's law enforcement agencies disregarded the law and sentenced Mr. Zheng to 10 years in prison. This has further aroused indignation among local residents. Some cursed: "The CCP is ridiculous." A 70-year-old grandmother said, "A good person is sentenced to 10 years in prison. What kind of troubled world is it? This society is hopeless." Even more local residents have petitioned with their thumbprints to request Mr. Zheng's release. After Minghui reported on the petition with 3,000 signatures, 755 more residents from four counties signed the petition. Some people not only signed and left their thumbprints, but also left their cell phone numbers, and some wrote directly after their signatures their requests to release Mr. Zheng.
One resident said, "I have lived to such an old age and signed my name so many times, yet only this one is meaningful." While signing the petition, a housewife said, "I am not scared of bailing out a good person. I will sign my name and leave my thumbprint. How could I not bail out such a good person?"
A resident said, "We have learned through personal connection within the public security system that they do not follow lawful procedures when sentencing Falun Gong practitioners—it's all done secretly."
Mr. Zheng used to be a real ruffian. According to his wife, he was all about fighting and making trouble, and even the police couldn't control him. Until one day in 2001, he hit a police officer and was detained for three days. The three days he spent in the detention center were the turning point of his life. He shared a cell with a Falun Gong practitioner and was deeply moved by the practitioner's sincerity and kindness and the principles he lived by. After returning home, Mr. Zheng started looking for Falun Gong books to read. He not only gradually got rid of his bad habits, but also told his gangster buddies to get rid of their bad habits and try to be good people. He put Truthfulness-Compassion-Forbearance into practice, and these principles were reflected in his speech and actions. He proved and showed others what Falun Gong really is teaching people to do. Mr. Zheng and his wife run their business with honesty and consider others first in every way, in the family and in society. The road in front of their house used to be full of potholes, and they fixed it with slag for the convenience of the villagers. They voluntarily repaired appliances for the villagers regardless of who it was or whether the appliance was bought from their store or not. As long as the villagers called and asked him for help, Mr. Zheng would find time to go to their houses and repair the appliance for them. An elderly person with a child went to his store to shop but didn't find anything he liked. During their conversation, Mr. Zheng found out that the elderly person and the child came a long way to get there, so he insisted on giving them a ride back home. After Mr. Zheng's arrest, the elderly person couldn't stop crying when he talked about this incident. One time, an elderly person fell due to sickness on the road in front of his store. Mr. Zheng immediately took the man to a hospital for medical treatment. The villagers all witnessed and remembered Mr. Zheng's changes. After Mr. Zheng's arrest, the villagers wrote three bail letters and collected 562 signatures and thumbprints requesting his release.
Since enduring surgery on his skull necessitated by torture, Mr. Zheng is now in critical condition and his life is at risk. The voices of people requesting an investigation of the responsible parties and that the real guilty ones be punished are being heard everywhere.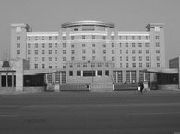 Baoding Prison
Parties responsible for the persecution of Mr. Zheng Xiangxing:
Liu Jiaman, deputy director of Tanghai County Police Department: +86-315-8787260 (Office), +86-13832986552 (Cell)
Li Fuguo, head of Tanghai County Police Department Domestic Security Division: +86-13832886232 (Cell)
Sun Jingsen, deputy head of Tanghai County Police Department Domestic Security Division: +86- 13931504463 (Cell)
Liu Jianhua, party secretary and warden of Hebei Baoding Prison, +86-312-5292801 (Office): +86-13315272001 (Cell)
Liu Zhanglong, political commissar of Hebei Baoding Prison, +86-312-5923003 (Office): +86-13653323308 (Cell)
Zhou Yanping, assistant warden of Hebei Baoding Prison, +86-312-5923005 (Office): +86- 13663300015 (Cell)