International Classical Chinese Dance Competition Resurrects Divinely-Inspired Civilization, Promotes the Spirit of the Chinese Nation (Photos)
November 01, 2012 | By Cai Ju
(Minghui.org) NTD Television held its 5th International Classical Chinese Dance Competition from October 25 to 27 at BMCC Tribeca Performing Arts Center in New York City.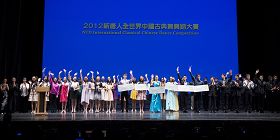 Winning contestants at the awards ceremony of the 5th International Classical Chinese Dance Competition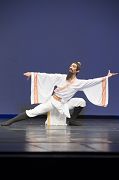 Male Adult Division Gold Winner Rocky Liao performs "Meditation on the Ancient Battleground of Chibi (Red Cliff)"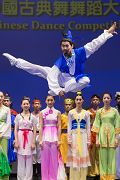 Male Adult Division Gold Winner Tony Xue performs "A Free and Flowing Spirit"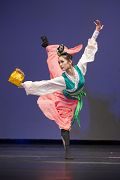 Female Adult Division Gold Winner Angelia Wang performs "Mu Guiying Takes Command"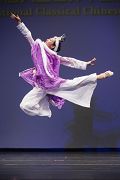 Female Adult Division Gold Winner Chelsea Cai performs "Wen Ji Gui Han (Lady Wenji Returns to the Han Dynasty)"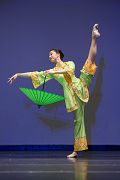 Melody Qin, gold winner in the adult female division, performs "A Beauty Next to the Autumn Water"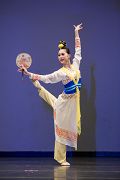 Female Junior Division Gold Winner Hsiao-Hung Lin performs "Across the Water"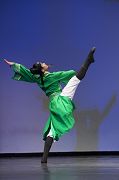 Male Junior Division Gold Winner Hou Jon Chen performs "Drinking Alone with the Moon"
The competition attracted 69 contestants from all around the world, including France, Germany, Japan, Taiwan, Australia, Canada, New Zealand, and different states in the U.S. For the first time, five contestants were selected from the Asian preliminary rounds of the competition held in Hong Kong.
The competition wrapped up on the evening of October 27 with more trophies awarded than planned. The awards ceremony was held at New Jersey's State Theatre at 10:30 p.m. The judges crowned a total of 31 gold, silver, and bronze winners in four groups: junior female, junior male, adult female, and adult male.
A total of 31 awards were handed out:
Female Junior Division Gold Award: Hsiao-Hung Lin
Male Junior Division Gold Award: Hou Jon Chen
Female Adult Division Gold Award: Melody Qin, Angelia Wang, Chelsea Cai
Male Adult Division Gold Award: Rocky Liao, Tony Xue
Female Junior Division Silver Award: Alison Chen, Kai Di Wu
Male Junior Division Silver Award: Chun Cheng Chen, Kenji Kobyasliu
Female Adult Division Silver Award: Miranda Zhou-Gelati, Chia-Ling Chen, Tao-Yung Cheng
Male Adult Division Silver Award: William Li, Yong Xin Cao, Zan Sun
Female Junior Division Bronze Award: Junzhu Wang, Sichu Lin, Caroline Sercombe, Yiran Wang, Diana Teng
Male Junior Division Bronze Award: Albert Yang, Danny Li, Jingzhou Huang
Female Adult Division Bronze Award: Madeline Lobjois, Tai Wei Wang, Kexin Li
Male Adult Division Bronze Award: Yuan Ming, Qian Lao, Alvin Song
Honorable Mentions:
Junior Female Division: Guiyu Lin, Xizhi Zhou
Junior Male Division: Yingqing Li, Bokuan Du, Wuchuan Zhong, Sam Pu
Adult Female Division: Nancy Wang, Qianyu Ren
Adult Male Division: Mingye Liu, Rick Li
Judges: Interpreting Authentic Classical Chinese Dance with Highly Difficult Techniques
"The contestants had very high standards. It was very difficult to decide on a winner," said one of the judges, Vina Lee, at a press conference after the awards ceremony, "When the contestants' technical levels are comparable, we have to look at their artistic expressive power and judge their level from their portrayal of traditional Chinese culture and see who can best bring out the inner meaning. It can't be achieved in one or two days. It shows the cumulative effect."
Vina Lee said that, even though these contestants have grown up overseas, they have inherited the essence of classical Chinese dance. "Their dances reflect their human nature. Some seemingly simple movements reflect the moral training and quality they possess she said.
Judge Chen Yongjia commented on the different themes the contestants chose for their three-minute dance routines and how difficult it is to portray a historical figure, such as Mulan, or a certain mood, such as the awakening of spring. "To portray a character, [the dancer] must be true to the historical background and the character's personality; to portray a mood, [the dancer] must enable the audience to understand what that mood is and the dance should be true to the piece's name," he said. "A mature dancer can accurately portray any character or mood."
Contestants: Demonstrating Authentic Technical Skills and the Profound Inner Meaning of Classical Chinese Dance
Rocky Liao, gold winner of the adult male division, portrayed renowned poet Su Shi (1037–1101) of the Northern Song Dynasty as he visited the red cliffs, where a battle unfolded between warlords of the Three Kingdoms almost 2,000 years ago.
"The eyes were an important part of this portrayal because he was a poet trying to picture the battle: His eyes should be full of thought. The movements are intense and full of force. There were big swings to show the spirit of the heroes of the battle. The scene was set to be soft and beautiful, which was how it was portrayed in the poem," said Mr. Liao, who did intensive research before choreographing the routine.
Kaidi Wu, who grabbed the silver award in the junior female division, portrayed a celestial fairy dancing with a piece of silk cloth. She threw the cloth up in the air several times and retrieved it while doing jumps and flips. All her movements connected lightly and flawlessly.
Pay Attention to Moral Training in Daily Life and Spread Traditional Culture
Angelia Wang, gold winner of the female adult division, portrayed Mu Guiying, a prominent figure in the Generals of the Yang Family legends. With mastery of the artistic techniques, Ms. Wang profoundly expressed the innermost transformation of Mu Guiying's emotional state, from learning of her husband's sacrifice to commanding the troops to fight against invaders in the battlefield, demonstrating a steadfast woman who is brave, resolute, and loyal.
Ms. Wang finds that the most important point in mastering authentic classical Chinese dance is to pay attention to one's moral training in one's daily life, learn the fine virtues of the ancient people, and understand traditional culture and history.
In addition, the biggest benefit of the competition, according to Ms. Wang, is the experience gained.
She said, "Every time I enter this competition, the contestants are all different, they all have their special skills, all things I can learn from. Because there are so many areas in which I can still improve, going through many years of constant hard work and accumulating experience, I want to perfect my dance."
Hsiao-Hung Lin, gold winner of the female junior division, also shared her feelings, "Everyone's body carried the spirit of Chinese dance, yet everyone was different. I feel what is most important is for you to find your own feeling to express, you need your own most special things—those are things you can't get through studying."
Classical Chinese Dance
Classical Chinese dance is one of the most ancient and complete dance systems in the world. It includes systematic training in different postures, movements, and techniques.
There are two key concepts in classical Chinese dance: form and bearing. Form refers to the coordination of intricate dance movements, such as a good balance between the direction of the eyes, the pose of the fingertips, and the body. Bearing is the expression through dance movements of cultural heritage formed in ancient dynasties.
Tumbling techniques are often incorporated to demonstrate key components of form and bearing, but they are only considered supplemental to classical Chinese dance.
Unfortunately, this cultural treasure was almost destroyed by the communists during the Cultural Revolution, when dancers were allowed to exalt only communist figures and ideology on stage.
With the success of the global tours by New York-based Shen Yun Performing Arts, many in the worldwide dance community have had opportunities to witness the profundity and beauty of classical Chinese dance in recent years.