Falun Dafa Restores a Woman's Health and Happiness (Photo)
October 09, 2012 | By Minghui correspondent Cheng Yuyang from Taipei, Taiwan
(Minghui.org) "Wow! Amazing! You are running faster than we are!" Ms. Lin was surprised when her husband said that. She could scarcely believe what she was doing, herself. Running is an ordinary thing to do, but for Ms. Lin, it was an extraordinary experience.
Due to severe osteoporosis and spinal problems, Ms. Lin had to lean against the railing, and slowly climb up the stairs to the fifth floor to attend the "Nine-Day Falun Dafa Lecture" for the first time. By the third day of the lecture, she was able to walk to the fifth floor without taking a break. She had previously been unable to sit for a very long time, but she sat and watched the 90-minute DVD of Teacher Li Hongzhi's lecture without feeling any discomfort. During the nine days of lecture, her physical condition improved gradually.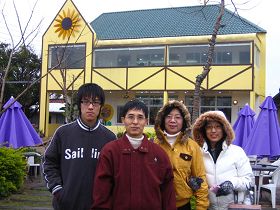 Mr. and Ms. Lin are both Falun Dafa practitioners. Mr. Lin said, "I don't worry about my children because they practice Falun Dafa. I'm very fortunate."
Ms. Lin said, "I was very touched by Falun Dafa. It's truly miraculous! I had given up on treatment for my illnesses, but decided to give it a try because my daughter and husband suggested that I learn the practice. I've finally experienced living without any illness. I'm very healthy now, and I'm as happy as an immortal."
A Life Without Hope
People in their thirties are usually pretty healthy. Ms. Lin, however, suffered from insomnia, tremendous pain, and a weak immune system. She spent a lot of time trying to find treatment for a case of shingles, but her health continued to decline. She had dry eye syndrome which resulted in a great deal of pain and discomfort. Although Ms. Lin used prescription eye drops three times a day, she still developed other problems such as infection. She suffered from tinnitus and visited an acupuncturist every three days for treatment. After three years of acupuncture treatment, she sought help from a western doctor. Five years later, her condition remained the same. Ms. Lin had Barlow's syndrome, a heart valve abnormality. She experienced chest pain even with minimal activity. Thus, she had to move slowly, even when she tossed and turned in her sleep. Spine problems also made standing and sitting very uncomfortable.
Ms. Lin was on osteoporosis and degenerative arthritic medication for three years without any result. The doctor suggested that she do outdoor activities which exposed her to sunlight, such as hiking. He said that it was more effective to combine the medication with vitamin D from the sun. Mr. Lin accompanied Ms. Lin every morning for a walk. Two years later, her skin got darker, but the osteoporosis symptoms remained the same. One time, while on a Chinese New Year vacation, Ms. Lin almost fell at a playground. Her left wrist slid against the railing, and she avoided the fall. The next day, she was unable to clench her fist. She went to a Chinese physical therapist for treatment, but the condition worsened. The western doctor took an x-ray and found that the cartilage of her left thumb was fractured. She wore a metal splint for six months to protect her hand. Her left hand had no strength after the accident and ached during windy and rainy weather.
It was difficult to live with the degenerative arthritis. Ms. Lin often had trouble walking. She had weak ankles and was easily injured. Sometimes when she stepped over a one foot high step, her knees would buckle and she would fall to the floor. At other times, even when walking on flat ground, her legs and feet would feel weak, and she had to kneel on the floor. The doctor said she needed artificial joint replacement. The shocking news made Ms. Lin panic, "I'm not even 40 years old. My life is hopeless with so many illnesses. What should I do?"
"I Felt Relieved When My Children Began Practicing Falun Dafa"
After seeing the transformation that Mr. Lin underwent after practicing Falun Dafa for nearly a year, Ms. Lin's daughter suggested that she practice too. Mr. Lin also encouraged her to practice. Ms. Lin thought, "I've sought treatments from Chinese and Western medicine with no results. I'll give it a try." She learned and practiced the exercises with her husband for about a month. One day in the fall of 2000, Mr. and Ms. Lin took a taxi cab with their 15-year-old daughter and 11-year-old son to attend the "Nine-Day Falun Dafa Lecture" in Panchiao City. Her health improved gradually after the first day of the lecture series, and the changes were quite noticeable. Ms. Lin was very shocked and amazed by the miraculous effects of the practice. Since the medication she had been taking was ineffective and probably harmful, she threw away all the medications shortly after the nine-day lecture and never took them again.
Nearly two months after she began the practice, Ms. Lin was sleeping very well and no longer suffered from insomnia. Her dry eye symptom had disappeared and her eyes no longer hurt. Two to three months later, the tinnitus was completely gone. The chest pain, osteoporosis, and arthritis were also a thing of the past and no longer bothered her. Ms. Lin said, "I felt better and better each day. My body felt light when I walked, and it felt great to be free of illnesses. A significant change was that I had more courage after I began cultivating. My mind continued to elevate as I studied the Fa and I felt more at ease and broadminded. I felt lighthearted, happy, and fortunate."
Prior to practicing Falun Dafa, Mr. and Ms. Lin often argued about work and issues regarding their children's education. When Ms. Lin received defective or wrong goods from the company they did business with, she used to immediately call the company and scold them. She also used to have disagreements with the customers. After learning the practice, Mr. and Ms. Lin measured themselves by the principles of "Truthfulness-Compassion-Forbearance." Consequently, conflicts and unpleasant issues were reduced, and they hardly occur now. The family of four are all practitioners. Mr. Lin said, "Before my children practiced Falun Dafa, I was afraid that they would be affected by the moral decline of present day society, or go astray under peer pressure. Since they became Dafa practitioners, they are doing things and treating others according to the principles of 'Truthfulness-Compassion-Forbearance.' I'm no longer afraid that they will get into trouble. I feel fortunate that I don't have to worry about them."
Doing Business with Falun Dafa Practitioners
Before they became cultivators, Mr. and Ms. Lin's only goal in business was to make money. They delivered the goods to customers as soon as they received them from the company. When the customers had problems, they let the company handle the customers directly. After learning Falun Gong, they put others before themselves when doing things. They recommended products that suited their customers' needs and took care of the quality control process before they delivered the goods. As a result, they gained more customers. Some buyers commented, "We feel assured and safe doing business with Falun Dafa practitioners." Many of them became loyal customers, and they referred their friends, families, and neighbors to Mr. and Ms. Lin's business. Others said, "Ms. Lin, your goods are not much better or nicer looking than other merchants' goods. However, for some reason, we like it here better, and prefer to buy things from you."
Some of the customers are women from China who married their husbands in Taiwan. Mr. and Ms. Lin took the opportunity to clarify the truth about Falun Dafa to them. Ms. Lin said, "Women from China have sharp tongues and like to bargain. As long as I can make a small profit, I don't mind doing business with them. It's more important to clarify the truth to them. At first, many of them rejected or doubted our words, but now they are more willing to listen and read the truth clarification materials. Some have quit the Chinese Communist Party (CCP) and its affiliated organizations in my store after they understood the truth. Moreover, they bring their fellow villagers and other women from China to buy our products. They seem to trust Falun Dafa practitioners more. Whether they end up doing business with us or not, we still clarify the truth to them."