International Vocal Competition Draws Renowned Musicians and Vocalists to Revive Traditional Arts (Photos)
October 26, 2012 | By Minghui correspondent Cai Ju in New York
(Minghui.org) The Finals of the 6th International Vocal Competition was held on October 21, 2012 in New York's Carnegie Hall, one of the world's most prestigious music venues. Different from the competitions in the previous years, the competition this year is open to contestants from all ethnic background and countries, but they are required to sing a selected classical Chinese song in the finals.
After intense competition, Iaia Hanying Tso from Taiwan (Female Division) and Mario Zhang from Canada (Male Division) won Gold Awards. Azusa Dodo from Japan (Female Division) and Markus Max Prodinger from Austria (Male Division) won Silver Awards. Bronze Winners were Cordelia Hanus from Germany and Jennifer O'Loughlin from USA in the Female Division; Tim Augustin from USA and Wei Han Tan from Malaysia in the Male Division.
Contestants won Honorable Mentions are: Liudmila Zhiltsova (Russia), Ngai-Tung Tiffany Lau (Hong Kong), Yun Cindy Zhang (Canada), Wen Yu Lin (Argentina), Zhi Zhang (China), Jeannie Chiang (Taiwan), Jamila Sockwell (USA). Jamila Sockwell from USA also received an award from Sicily Opera Academy (SOA, Italy) for four days' study and performance sponsored by SOA.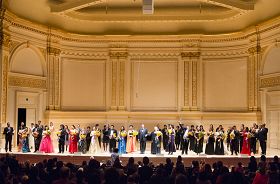 The finalists sing with world renowned tenor Marcello Giordani at award ceremony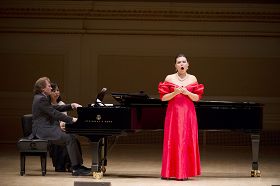 Iaia Hanying Tso (Taiwan), Gold Winner, in the Finals of the International Vocal Competition held in Carnegie Hall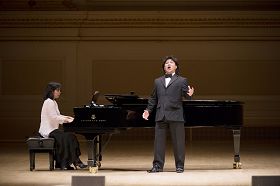 Mario Zhang, Tenor (Canada), Gold Winner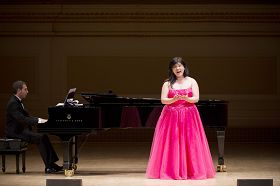 Azusa Dodo, Soprano (Japan), Silver Winner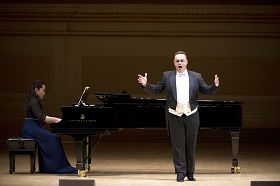 Markus Max Prodinger, Tenor (Austria), Silver Winner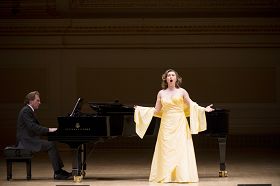 Jennifer O'Loughlin, Soprano (USA), Bronze Winner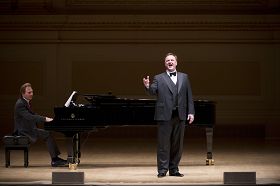 Tim Augustin, Tenor (USA), Bronze Winner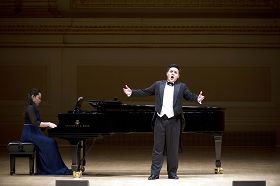 Wei Han Tan, Tenor (Malaysia), Bronze Winner
The competition aims to promote traditional vocal arts of pure authenticity, goodness, and beauty, and to provide a world-class arena for all vocalists to showcase their talent. The preliminaries and semi-finals held at New York's Hunter College. The finals and award ceremony were held in Carnegie Hall. The finalists sang with Marcello Giordani, the Italian tenor considered by Opera News to be "arguably, the greatest leading tenor of his generation," at the awards ceremony. They concluded the performance, singing the drinking song from "La Traviata." The appreciative audience gave them a standing ovation.
Chairman of the Panel of Judges: Singing a Chinese Song Requires Understanding Its Inner Meaning
Mr. Guan Guimin, Chairman of the Panel of Judges said that NTD's Vocal Competition this year is open to non-Chinese vocalists for the first time, and many talented opera singers from around the world were drawn to the event. This is the first time for Western opera singers to sing a Chinese song in an international competition, and have to interpret their understanding of Chinese culture in operatic singing style. Mr. Guan said that it is not easy to sing a Chinese song well. "It requires contestants to not only pronounce and articulate correctly and clearly, but also have a deep understanding of Chinese culture, in order to sing out the essence of the Chinese song," he said.
NTD's International Vocal Competition Draws World-renowned Musicians and Vocalists
The competition this year drew 39 contestants from 17 countries, and many of them are excellent high-caliber singers. Contestant Stephen Mullan is a world-famous tenor and his piano accompanist Martin Yazdzik, is a well-known conductor and pianist.
Mr. Yazdzik said that the judges of the competition and many contestants are top figures in the vocal performance community. For the younger generation, it is a very rare opportunity to get into contact with the world's top artists, and it will be very helpful for their vocal art development in the future.
Famous Conductor: NTD's Competition Allows Younger Singers to Join the Effort to Carry Forward Traditional Arts
The competition requires all contestants to sing a Chinese song in the finals. Mr. Yazdzik thinks that it is a very important part of the competition. It helps to carry on and promote traditional Chinese culture, and reminds the younger generation not to forget these cultural classics, and carry them on, so as to continue the vitality of traditional arts.
Contestant: "Performing in Carnegie Hall was an incredible experience!"
Gold Winner Mario Zhang said, "Real Italian singing teachers are now almost impossible to find, and it is difficult to find real opera singers in Europe. The economic recession has weakened the audience's support for opera. It's rare that NTD's competition carries forward traditional singing at this moment. The competition also particularly requires singing Chinese songs, which is also to introduce Chinese culture to the world."
Originally from China, Mario Zhang has performed in operatic productions and concerts all around the world. He graduated at the London Royal College of Music and won the First Prize at the National Clonter Opera Competition in London. He was also a finalist at the Placido Domingo International Opera Competition and the Metropolitan Opera Competition.
Gold Winner Iaia Hanying Tso in the Female Division, graduated from the Luigi Cherubini Conservatory in Italy, and won second place at the Concorso Internazionale in 2010. She said that she had wanted to participate in this competition last year, one of the reasons was that "the competition impressed me, because it requires us to sing a Chinese song in bel canto style."
"There is a trend all over the world that ancient arts face being lost." She added, "The competition is an impetus and bridge for young people. It allows us to see our hard work over so many years. I'm satisfied with the competition, and NTD did a great thing." She said that what she learned from the competition will carry into the future.
Silver Winner Markus Max Prodinger, tenor (Austria) said excitedly, "Performing in Carnegie Hall was an incredible experience! First, when we went onstage to test the stage and the acoustics were so great in this hall that it was fantastic, and the audience...I felt like Luciano Pavarotti in this hall because people were all clapping and saying bravo, bravo."
Bronze Winner Tim Augustin, tenor (USA) said, "I think the competition is wonderful, because it introduces western trained singers to some of Chinese literature." He said he had been working on some Chinese folk songs, and felt they are "incredibly beautiful." He also found Chinese poetry "incredibly beautiful and heartfelt."
Judges: Contestants Are Excellent, Chinese Songs Beautiful and Touching
Katherine Olsen, judge of the competition, is one of the most famous and sought-after opera coach/accompanists in the world today. She said, "It's thrilling to hear all these beautiful young voices for the first time." "You have some fantastic artists from China. Wonderful!" She thinks Chinese artists strive hard for perfection so they do very well.
Maitland Peters, judge of the competition, is Chairman of the Voice Department at Manhattan School of Music. He said, "The Chinese singers are excellent. I think they are the future of classical singing, because we hear a lot of Chinese singers coming in now are really phenomenal, well-trained, with beautiful sound, with a lot of courage in how they sing. Their expression is full of vigor, I like it."
Dr. Richard Barrett, judge of the competition, is Head of Opera Department, Brooklyn College. He thinks the voice is only a small portion of success for a good vocalist. "You have to know languages, you have to be able to take direction, you have to be a good musician, you have to be able to follow the conductor, you have to take stage direction from people, and you have to be sincere. There are so many things like a big pie, and the voice may be 5% of it," he said.
World Famous Master Opera Singer: The Competition Is Becoming More Important
World-renowned opera tenor Marcello Giordani said, "It's an honor for me to be in this competition, which is becoming more important. I know it has been the 6th edition, and it's international. First I thought it was just for Chinese, but I just find out it is international. I saw singers from all over the world. I heard good talent, so I wish them good luck."
He appreciated that the vocal competition includes singing a Chinese song. "Actually I heard some Chinese songs, they sounded like Puccini, they sound Italian, a melancholy sound. In fact I couldn't tell it was Chinese music, since they sound very similar to European music. I think it's a good idea because you try to keep the idiomatic language, which is important not to lose."
Audience: "No Matter What Culture, Beautiful Music Is Beautiful Music."
"Yes, I love it", "I thought it was wonderful!" "Extremely Exciting!" "The wonderful idea!" "I enjoyed it very much!" Many audience members expressed enthusiasm after hearing Western vocalists sing Chinese songs.
Real Estate Investor Clifford Rubin said, "I've heard Chinese singers before, and my sister-in-law is Chinese, but I've never heard Chinese perform opera before. That was somewhat surprising, but it was beautiful. And it proves that if you have the voice, it doesn't matter where you come from, or what your cultures are, because beautiful music is beautiful music."
Another audience member Joseph O'Connor commented, "I wish I could understand the meaning of the songs. It is beautiful music. My wife and I enjoyed it very much."