Reaching Out across the Taiwan Strait (Part 1)
January 31, 2012 | By Xia Yun
(Clearwisdom.net) "Dear friend, this is a call from Taiwan. First, I would like to wish you and your family well. We want to tell you something very important: there is currently a trend of people in China quitting the Chinese Communist Party (CCP) and its affiliated organizations. They have done so because it's heaven's will and they can stay safe and be blessed as a result. There are already 108 million Chinese people who have quit the CCP organizations. Have you heard about it?" These are the opening lines of Taiwanese Falun Gong practitioner Zhang Shiwen when he calls people in China. Mr. Zhang has no idea who is on the other side of the phone. He, like numerous other Falun Gong practitioners, has only one thought and that is to tell people in China the facts of the persecution of Falun Gong in order to save them.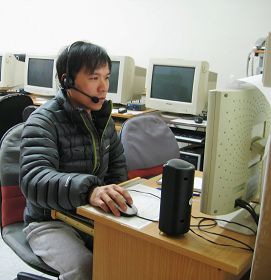 Zhang Shiwen using an Internet phone to call people in China.
There is a group of Falun Gong practitioners in Taiwan who call people across the Taiwan Strait every day after work to tell them the facts about Falun Gong and help them quit the CCP and its affiliated organizations. Mr. Zhang, 37 years old, has been making phone calls to China since 2008. Seeing his fellow practitioners tortured and persecuted in China for practicing Falun Gong, he eagerly wants people in China to be aware of the persecution and help them choose a bright future by quitting the CCP organizations.
Mr. Zhang wakes up 4:30 a.m. every day to do the Falun Gong exercises before he goes to work. After he gets off work, he takes care of his personal business and reads Falun Dafa books before he makes calls. He talks to people in China for about an hour before he rests.
Mr. Zhang talked about a recent call he made, "When I heard an innocent child saying 'Falun Dafa is good, Truthfulness-Compassion-Forbearance is good' with me, I was so moved!" Then he told us this story: once, an elderly lady from Hunan Province picked up the phone. Mr. Zhang told her about the trend of quitting the CCP and offered to help her quit with an alias. She agreed. Mr. Zhang then told her of the persecution of Falun Gong and asked her to spread the word to her family. The elderly lady immediately handed the phone over to her 12-year-old granddaughter. Mr. Zhang asked the girl, "Did you wear a red scarf when you were in elementary school?" The girl answered yes. When Mr. Zhang offered to help her quit the Young Pioneers to stay safe, the girl agreed without hesitation. Mr. Zhang then reminded her to tell her classmates about the phone call and taught her how to help them quit the Young Pioneers. When the girl repeated "Falun Dafa is good, Truthfulness-Compassion-Forbearance is good" with Mr. Zhang at the end of the call, Mr. Zhang was so excited. Listening to her innocent voice, Mr. Zhang knew that she had chosen the right path for herself.
Mr. Zhang once helped a CCP Commission Secretary quit. After telling him about quitting the CCP, the man told Mr. Zhang that he was a high-ranking official. "If I quit, then will all my subordinates have to quit too!?" he asked. Mr. Zhang told him that he did not have to quit in reality but that he should have the desire to quit from the bottom of his heart. Mr. Zhang explained the gravity of vowing to devote one's life to the CCP when joining the Party. Mr. Zhang mentioned the recent tragedy of the two-year-old girl in Guangdong who was left to die after being run over by the same car twice with many bystanders watching. "The CCP's atheism has ruined all the virtue and morality that the Chinese people inherited from its thousands of years of divinely-bestowed culture. Nowadays, China lacks nothing but virtue, don't you agree?" The man quickly agreed to quit the CCP.
While some people listen to Mr. Zhang carefully, some hang up out of fear of the CCP or other misunderstandings. When this happens, Mr. Zhang does not become discouraged and calls again. He patiently explains his intention, and wishes only for the other party to feel his goodwill. He then gives more examples to help the other person understand what he is trying to say. A lot of times, the person will change his or her mind. One time, a man, during the second call, began to chat with him, clearly relieved. He told Mr. Zhang, "I have long wanted to practice Falun Gong, but I just could not find your people. I often saw signs reading 'Falun Dafa is good' and 'Truthfulness-Compassion-Forbearance is good' on bridges!" Mr. Zhang then taught him how to get online to learn the practice.
Some Chinese people not only quit the CCP themselves but help Mr. Zhang to help more people quit. On one occasion, a 24-year-old young man picked up the phone. He was the owner of a barber shop. In a roundabout way, he asked Mr. Zhang if he was a Falun Gong practitioner, by referring to the music for the first exercise. Mr. Zhang laughed and asked him how he knew that Falun Gong exercise. The young man told him that his landlord upstairs was a practitioner and taught his employees the exercises. They have all seen the video about the Tiananmen Square "self-immolation" that happened in 2001, staged by the CCP to frame Falun Gong. He had learned the truth of Falun Gong and said that he lived not far away from Falun Gong founder Mr. Li Hongzhi's hometown. He chatted with Mr. Zhang for an hour and left him his phone number, inviting Mr. Zhang to call back the next day and help his other employees quit the CCP and its affiliated organizations.
Sure, there are sometimes people who believe the CCP's propaganda against Falun Gong. They scold Mr. Zhang or hang up on him. However, Mr. Zhang is determined to continue doing what he does. He believes that he can wake up the benevolence in the Chinese people, help them clearly see the evil nature of the CCP and make a right choice to a bright future.