(Clearwisdom.net)
Greetings, Master! Greetings, fellow practitioners!
I wanted to write an experience sharing article before, but didn't know what to write about since I felt there was nothing spectacular about my cultivation practice and I hadn't done anything major in
Name: Hu Zhehui (胡哲辉)
Gender: Female
Age: 46
Address: Xinglong Street, Xinglongtai District, Panjin City
Occupation: Employee of the Well Logging Company of Liaohe Oil Field
Date of Most Recent Arrest: August 3, 2005
(Clearwisdom.net) In September and October 2011, Falun Gong practitioners were arrested both individually and in groups, detained, sent to forced labor camps, and sentenced to prison. The prisons, labor camps and brainwashing centers in China continue to torture practitioners who are steadfast in their belief. Many cases of severe torture were reported, including death from torture.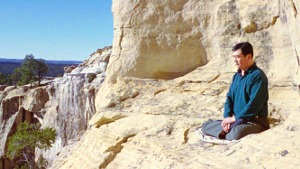 Master Li quietly watching the world from amidst the mountains after leaving New York following July 20th, 1999. (Published January 19, 2000)