(Clearwisdom.net) Zhang Jianru, an inmate at Prison Section 8 in Hebei Women's Prison, participated in the persecution of Falun Gong practitioners.
Zhang Jianru was ordered by prison guards to conduct force-feedings on Falun Gong practitioner Ms. Ku Jinge in 2007. She forcefully squeezed Ms. Ku's trachea, restricting her normal breathing. She also used pieces of paper to cover and seal her mouth. After she administered a force-feeding, she yanked out the feeding tube, causing Ms. Ku to vomit. Zhang collected the vomit with a container three times, and attempted to force-feed it back to her. She stopped only after the prison guard didn't want to see it.
(Clearwisdom.net) Around 7:00 p.m. on November 17, 2011, many Beijing practitioners were arrested. To lure the practitioners outside, the officers switched off their electricity. At this time we know that seven practitioners were arrested and their homes ransacked.
Name: Li Xiuying (李秀英)
Gender: Female
Age: 41
Address: 5th team, Dongguang village, Jinjiang district, Chengdu city ( 成都市锦江区东光村五组)
Date of Most Recent Arrest: October 31, 2011
Most Recent Place of Detention: Mianyang detention center ( 绵阳看守所)
~ Accounts of Persecution ~
~ Solemn Declarations ~
~ Journeys of Cultivation ~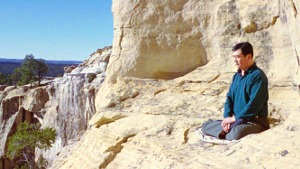 Master Li quietly watching the world from amidst the mountains after leaving New York following July 20th, 1999. (Published January 19, 2000)