Chicago: Falun Gong Practitioners Participate in Labor Day Parade in Naperville (Photos)
(Clearwisdom.net) Falun Gong practitioners from the greater Chicago area participated in the Labor Day Parade on September 5, 2011, in Naperville. The parade started at 10:00 a.m. The Falun Gong contingent was led by a large banner, which read, "Falun Dafa." Following the banner were celestial maidens on a float decorated with lotus flowers, the exercise demonstration team, and another two large banners that read, "Falun Dafa" and "Truthfulness-Compassion-Forbearance" in Chinese and English.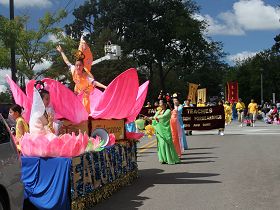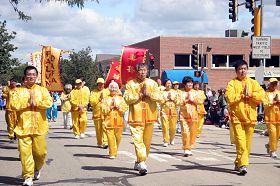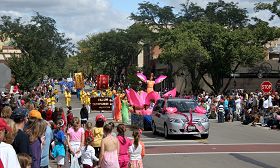 Falun Gong group in the parade
When the practitioners passed by the stage, the hosts briefly introduced them to the audience. One host said that Falun Gong is an ancient Chinese cultivation practice, teaching the principle of "Truthfulness-Compassion-Forbearance." Another host commented that the group looked very peaceful.
Many local citizens, including Chinese people, warmly welcomed the Falun Gong group.
Among the participants, David and Anna are a couple who immigrated from China one month ago. David started practicing Falun Gong in 1996. During the persecution, he was badly tortured in prison. He was very happy and excited about joining the parade. He said, "During the parade, I had a smile on my face, but my eyes were full of tears. When I was in China, I read about the parades overseas. I wished that one day I could join other practitioners. Today, my dream came true. I am very happy that I can help to demonstrate the beauty of Falun Gong to the public."