Mr. Zhou Xiangyang's Family Files Lawsuit Against Gangbei Prison
September 06, 2011 | By a Clearwisdom correspondent from Tianjin, China
Name: Zhou Xiangyang (周向阳)
Gender: Male
Age: 38
Address: Tangshan, Hebei Province
Occupation: Cost engineer at the Third Tianjin Railway Survey and Design Institute
Date of Most Recent Arrest: March 5, 2011
Most Recent Place of Detention: Binhai Prison (滨海监狱), formerly known as Gangbei Prison (港北监狱)
City: Tianjin
Persecution Suffered: Electric shock, sleep deprivation, forced labor, brainwashing, illegal sentencing, beatings, hung up, solitary confinement, force-feedings, physical restraint, home ransacked, interrogation, denial of restroom use
(Clearwisdom.net) Mr. Zhou Xiangyang was taken to Gangbei Prison, now called Binhai Prison, on March 5, 2011. He was tortured by the guards and has been on a hunger strike to protest the persection for more than 160 days.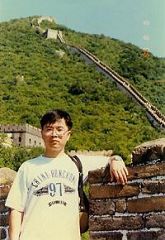 Mr. Zhou Xiangyang
After Mr. Zhou's case was reported on the Clearwisdom website by his wife Li Shanshan, (see http://www.clearwisdom.net/html/articles/2011/6/26/126261.html), the prison administration and the Tianjin 610 Office contacted the Hebei Province 610 Office, to instruct the Qinhuangdao 610 Office and the Tangshan City 610 Office to repeatedly harass their family. Mr. Zhou's family members were then denied visitation rights three times in a row.
When Mr. Li Xiwang's death at the prion became public and was exposed on the Clearwisdom website (seehttp://www.clearwisdom.net/html/articles/2011/8/24/127653.html), Mr. Zhou's family were worried that he would face a similar fate. They then hired lawyers from Beijing and filed a lawsuit against the prison authorities.
Two lawyers went to the prison on the morning of August 22, 2011, and requested to see Mr. Zhou. Guards with the following identification numbers, 12082177, 1208103, 1208121, and 1208101, told the lawyers that they had to submit the local police station's certification, verifying that they did not practice Falun Gong themselves.
| | |
| --- | --- |
| Former Gangbei Prison | Binhai Prison Now |
The lawyers stated that such documents were not required by law and requested to see their client. One of the lawyers was finally allowed to talk to the deputy warden Li Guoyu, but a visit to see Mr. Zhou was still not granted.
The lawyers filed a complaint with the Tianjin Prison Administration Bureau, and charged the authorities at Gangbei Prison with intentionally harming and torturing Mr. Zhou, and illegally denying them and his family the right to see him. They demanded an investigation to look into the possible wrongdoing by Li Guoyu and Zhang Shilin from the prison, that the prison guards immediately stop torturing practitioners, and that they provide compensation to Mr. Zhou for his suffering.
The Prison Administration Bureau accepted the complaint and stated that they would report it to their superiors, and that a response would be given within fifteen days.
When the lawyers visited the Tianjin Middle Procuratorate on August 23, 2011, an official there tried to redirect them to the appeals office. One of the lawyers said, "I am a lawyer and came to file a lawsuit, not an appeal. People are being tortured in Gangbei Prison, which is under your jurisdiction. You have failed to provide adequate supervision of your subordinates." The official then challenged him to first provide evidence of the claim. The lawyer then stated that it was their duty and responsibility to investigate accusations made against their prison staff. The official had no alternative but to accept the lawsuit.
Other related articles:
http://www.clearwisdom.net/html/articles/2011/8/2/127160.html,
http://www.clearwisdom.net/html/articles/2011/5/5/124948.html,
http://www.clearwisdom.net/html/articles/2011/4/5/124228.html,
http://www.clearwisdom.net/html/articles/2009/8/10/109917.html,
http://www.clearwisdom.net/emh/articles/2005/10/3/65504.html