Ms. He Lianchun Secretly Given Ten More Years of Imprisonment after Serving Five-Year Sentence
September 19, 2011 | By a Clearwisdom correspondent from Yunnan Province, China
Name: He Lianchun (何莲春)
Gender: Female
Age: 41
Address: Gaojia Village, Wenlan Town, Mengzi County, Honghezhou
Occupation: Unknown
Date of Most Recent Arrest: January 23, 2009
Most Recent Place of Detention: Yunnan Province Second Women's Prison (云南省第二女子监狱)
County: Mengzi
Province: Yunnan Province
Persecution Suffered: Illegal sentencing, beatings, imprisonment, torture, solitary confinement, force-feedings, home ransacked, detention
(Clearwisdom.net) Falun Gong practitioner Ms. He Lianchun from Mengzi County, Yunnan Province was secretly sentenced to 10 years of imprisonment in 2009, and is currently detained in the Yunnan Province Second Women's Prison. Because she remained steadfast in her belief in Falun Gong, she was subjected to all kinds of severe tortures, including solitary confinement and the tiger bench. She went on a hunger strike to resist the persecution, and is now in very poor physical condition.
Ms. He is 41 years old and lives in Gaojia Village, Wenlan Town, Mengzi County, Honghezhou. The communist authorities first arrested her on October 1, 2001 when she distributed Falun Gong materials with four practitioners in Mengzi County, and also ransacked her home. She was subsequently sentenced to five years in the Yunnan Province Second Women's Prison.
Ms. He was arrested again on January 23, 2009 when she distributed materials that clarified the truth about the persecution of Falun Gong. Plainclothes police ransacked her home, took her Dafa books and other personal belongings, and forcibly took her to the Mengzi County Detention Center.
While in the detention center (from January 23, 2009 to September 2009), she was severely tortured because she remained steadfast in her spiritual belief and wouldn't follow the guards' orders. The guards brutally slapped her, dragged her by her hair and slammed her head against the brick wall, and forced her to wear fetters that weighed about 27 pounds. She then went on a hunger strike in late May to protest the persecution. Her mother, who is in her 60s, went to visit her at that time and broke into tears when she saw her daughter's poor condition caused by the torture.
Ms. He was secretly sentenced to 10 years of imprisonment by the Honghezhou Intermediate Court around the middle of June 2009. Her family was not aware of it until the sentence had been carried out. They even didn't know which date or how the sentence was judged or even if a hearing was held. Due to constant pressure and threats from the authorities, her husband divorced her. The regime agents forcibly tried the divorce case in the detention center. Involved perpetrators include Wang Youming and Peng Xingliang.
In October 2009 Ms. He was transferred to Ward No. 6 of Yunnan Province Second Women's Prison. Her family visited her on August 24, 2010 but were strictly monitored by Mengzi County 610 Office agents. Despite the intense pressure, Ms. He remained steadfast and didn't say much. However, the guards called her family 14 days later, informing that Ms. He had developed many disease symptoms and the doctors had sent a notice of her critical condition. They asked her family to quickly visit her.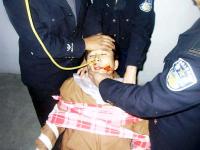 Torture re-enactment: Force-feedings through nostrils
Ms. He's mother hurriedly went to the prison on September 13, 2010, and was taken to a secluded hospital (it is believed that this was the prison hospital). During the visit, her mother was told that the guards force-fed Ms. He through her nostrils after she started the hunger strike.
Afterward, Ms. He's family was not allowed to visit her. Her mother called the prison officials and inquired about Ms. He's condition. However, the officials repeatedly lied, claiming, "You have dialed the wrong number." Then the family called the Mengzi County 610 Office. The head, Yang Xiuying, first claimed that she knew nothing about Ms. He's case; then Yang said to Ms. He's mother, "Your daughter is fighting against us using her body. Next time we will not send doctors to save her."
Perpetrators:
Yang Xiuying, Mengzi County 610 Office head: +86-13887352355
Yang Mingshan, head of Yunnan Province Second Women's Prison
Lu Rubin, head of Ward No. 6