Ms. Song Huilan's Right Foot Falls Off Due to Forced Drug Administration
September 12, 2011 | By a Clearwisdom correspondent from Heilongjiang Province, China
Name: Song Huilan (宋慧兰)
Gender: Female
Age: 60
Address: Xinhua Farm, Hegang City, Heilongjiang Province
Occupation: Farmer
Date of Most Recent Arrest: December 13, 2010
Most Recent Place of Detention: Tangyuan County Detention Center (汤原县看守所)
City: Hegang
Province: Heilongjiang
Persecution Suffered: Forced labor, forced injections/drug administration, beatings, force-feedings, physical restraint, interrogation, detention, denial of restroom use
(Clearwisdom.net) Ms. Song Huilan is a Falun Gong practitioner from Xinhua Farm, Hegong City, Heilongjiang Province. She was subjected to forced injections after she was illegally arrested last December. Her brain has been impacted, resulting in slow reactions and difficulty controlling her body. Her right foot festered and turned black. Necrosis developed, and her foot finally fell off. She is now permanently disabled. Her sister was also intercepted by the officers from the Domestic Security Division on her way to appeal to the Huachuan County governor.
The following is her sister's account of the persecution of Ms. Song.
My younger sister, Ms. Song Huilan, used to suffer from many illnesses, including rheumatism, arthritis, hepatitis, a uterine tumor, kidney stones, etc. She recovered after she practiced Falun Gong in 1997. She used to frequently quarrel and even fight with her husband. I worried about her a lot. After she practiced Falun Gong, she not only get rid off all her illnesses but became very calm. The family stopped having arguments, and became harmonious. We were thankful for Falun Dafa and fully supported her to practice it.
1. Arrested Repeatedly and Brutal Force-feedings
Unfortunately, the Chinese Communist Party (CCP) began to persecute Falun Dafa practitioners in July 1999. Ms. Song was arrested many times.
In March 2002, she was arrested by Li Yong from the Domestic Security Division of the Xinhua Farm Police Department and detained for 15 days.
On April 19, 2002, Li Yong deceived her into going to the office and arrested her. She was subsequently subjected to three years of forced labor.
On April 19, 2008, she was arrested again by Li Yong.
On July 1, 2010, she was arrested by officers from the Jixiang Police Station in Tangyuan County. She went on a hunger strike for 18 days to protest the arrest and was in critical condition. The police released her.
Around 10:00 a.m. on December 13, 2010, Wang Xunjie, director of the Hengtoushan Police Station in Huachuan County, as well as Dong Hongsheng, Jia You, and others from the Huachuan County Domestic Security Division, scaled the fence and broke into the home of practitioner Ms. Zuo Xiuwen. They arrested her, Ms. Liu Fengping and Ms. Wang Dan (mother and daughter), and my sister, Song Huilan. My sister refused to answer any of their questions during the interrogation in the Huachuan County Domestic Security Division. Officer Zhang slapped her in the face. The four practitioners were subsequently taken to the Huachuan County Detention Center.
Ms. Song then went on a hunger strike. She was taken to the Huachuan County People's Hospital on the tenth day. In the first five days in the hospital, she was injected against her will with several bottles of unknown drugs on a daily basis. In the last two days, she was subjected to force-feedings.
The officers from the Huachuan Domestic Security Division, guards from the Huachuan Detention Center, and doctors from the hospital force-fed Ms. Song. They first tried to insert a nasogastric feeding tube, but failed. Then they changed to a tube as wide as a thumb and pried open her mouth using a chisel, which knocked out her two front teeth. When the tube was inserted into her stomach, she was in extreme pain and it made her nauseated. She had difficulty breathing in. She pushed her head up and pulled out the tube, which brought out some gastric fluid mixed with millet porridge. Officer Diao slapped her face very hard four times. On the first day, they inserted the tube into her twice and force-fed her three times. They circled the tube around her head and fastened it using adhesive tape. As of today, traces of blood are still visible when she coughs and she feels like the smell of the tube still lingers in her mouth.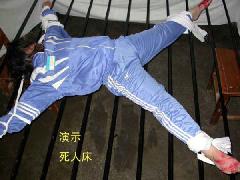 Torture re-enactment: "Death Bed," also known as a "Stretching Bed"
Zhang Qingfeng, Wang Dabao, and Zhang tortured her using a Death Bed. They stretched her arms and legs to the limit. She could not move. In the hospital, guards forced her to use the restroom when she did not need to and did not allow her to use the restroom when she needed to. She had to relieve herself in her clothes and wear soaked pants.
2. Injected with Unknown Drugs at the Tangyuan Detention Center
Ms. Song was taken to the Tangyuan Detention Center on December 30, 2010. The temperature would drop to -30°C at night. She slept on the ground with a thin sheet blanket. She trembled from the cold all night. She started having spasm late at night, her heart started to bother her, she had difficulty breathing, and she was in extreme pain all over. As a result, she suffered from prolapse of the uterus, an extremely painful condition in which part of the uterus hangs outside of the body.
She began another hunger strike. On February 23, 2011, director of the detention center Yan Yong and guards Li, Mu Zhanguo, Jiang Jiwu, and Yang Li shoved her onto the bed, handcuffed her, and infused her intravenously with a bottle of unknown drugs. Immediately, pain overwhelmed her. She rolled back and forth and could not utter a word.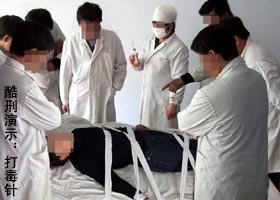 Torture re-enactment: Injected with unknown drugs
After the intravenous infusion, she had no feeling below her knees. Her body hardened. She could not walk. Whatever she ate immediately came back up, even if it was just one mouthful. She was completely incontinent. She became weaker and weaker. Her reaction time slowed down, and her memory failed. Her tongue was stiff, and her body became unresponsive
Late at night on February 28, 2011, her heart hurt so much that she could not endure it anymore. She called for guard Mu Zhanguo. Mu said, "Song Huilan, don't fake it. You will be dragged to jail even if you are dead."
Next morning, on March 1, Zhang Jianhong, the prison doctor, checked her right leg and said, "The leg won't function anymore." She developed a large, purple, bubble-blister on her right leg.
Guards took her to two hospitals for exams in the morning. Once the doctors saw the big purple bubbles, they said that it was beyond their expertise and told them to see doctors in Jiamusi City immediately.
In the afternoon, the detention center called us and asked us to take her home. She was on the brink of death, and other inmates had to carry her out. Her whole body was stiff and she was unconscious.
3. Right Foot Falls Off and Ms. Song Becomes Permanently Disabled
She was now at home in body but she wasn't present in mind. She did not speak, her eyes did not focus, her body was stiff, she could not bend her arms and legs, and she did not react to any stimulus. There was necrosis on her right lower leg. Her foot and toes were black and covered with dripping blood. It was like touching a hard metal sheet when I touched her leg. Her leg was getting worse every day, becoming more dark and stiff. Blood dripped out whenever her leg was moved slightly.
Her daughter and I looked after her day and night. She suffered not only leg pain but also extreme pain in her heart. She could not lie down for even five minutes. We took turns holding her in our arms. We were afraid that she might die any minute. Seeing her in such extreme pain, I felt broken and hurt inside all the time.
On May 25, 2011, her right foot fell off. Looking at my disabled younger sister, I wanted to cry, but my eyes were dry. It felt like there was a knife twisting in my heart.
4. Intercepted on the Way to Appeal
We wanted justice. We went to the Tangyuan County Detention Center. Director Qiao Yunting threatened us and denied responsibility. We went to the Tangyuan County Procuratorate and asked Yan Xiande of the Prisons Branch to register the case. He said that he did not have the right to investigate the case since the Political and Judiciary Committee was involved. We went to the Political and the Judiciary Committee and also called the 610 Office. The agents said that they were an administrative department, not an investigation department and that we should go to the Prisons Branch. No authority would take our case.
We went to the Appeals Office of the Tangyuan County People's Congress, the Women's Association, and the Discipline Inspection Commission. We were told that they were not the administration office. They could only report to their superiors, and it wouldn't solve our problems.
We went to the Jiamusi City Procuratorate. A lady with the surname of Hua in the Allegation Review Office met us and said that the case belonged to Tangyuan County and they couldn't handle it.
We submitted our letter to the Huachuan County Political and Judiciary Committee, the Women's Association, and the People's Congress. We didn't receive a reply.
I went to see the county governor on August 22, 1011. Since I am 64 years old, two of my friends went with me. The receptionist told us that the governor's office was on the second floor. After we had taken several steps, Jia You from the Domestic Security Division ran up to me from the first floor, grabbed me by my arm, and dragged me down. He dragged me to the hall on the first floor. Jia shouted, "You Falun Gong practitioners should all be arrested!" Half a dozen officers appeared. They yelled at us and pushed us out of the building.
Related reports:
http://www.clearwisdom.net/html/articles/2011/5/31/125658.html
http://www.clearwisdom.net/html/articles/2011/6/1/125680.html
http://www.clearwisdom.net/html/articles/2011/5/27/125559.html
http://www.clearwisdom.net/html/articles/2011/4/12/124364.html
http://www.clearwisdom.net/html/articles/2011/4/6/124251.html
http://www.clearwisdom.net/html/articles/2011/2/9/123148.html