Doctor Su Gang Is in Critical Condition at the Guozhen Forced Labor Camp in Shaanxi Province
August 31, 2011 | By a Clearwisdom correspondent from mainland China
Name: Su Gang (宿刚)
Gender: Male
Age: About 50
Address: Chengdu, Sichuan Province
Occupation: Doctor
Date of Most Recent Arrest: May 2011
Most Recent Place of Detention: Guozhen Forced Labor Camp (宝鸡市虢镇劳教所)
City: Baoji
Province: Shaanxi
Persecution Suffered: Electric shock, sleep deprivation, forced labor, brainwashing, beatings, imprisonment, torture, force-feedings, detention
(Clearwisdom.net) Mr. Su Gang from Chengdu, Sichuan Province was subjected to eighteen months in a forced labor camp after he was arrested in May, 2011 in Baoji, Shaanxi Province. On May 30, he was taken to the Third Brigade of the Guozheng Forced Labor Camp, also called Shaanxi Qinling Copper Factory. As a result of torture, he was unable to walk or take care of himself, and developed tuberculosis. The labor camp did not give him any medical care. Mr. Su Gang went on a hunger strike to protest the persecution. He is now in critical condition.
Mr. Su, around 50, was a doctor in a workers' hospital of a factory of the Ministry of Nuclear Industry in Jiajiang County, Sichuan Province. He was imprisoned for practicing Falun Dafa for two years in the Xinhua Forced Labor Camp in Mianyang, Sichuan, and for four years in the Wumaping Prison in Sichuan. He was held at the Xinjin Brainwashing Center in Chengdu, Sichuan.
The Third Ward of the Guozhen Forced Labor Camp is specialized in persecuting Falun Gong practitioners. Warden Zheng (first name unknown) and guard Zhi Jun gathered sturdy and wicked criminal inmates, and formed a "safe team". Others called them the "beater team" since what they did was beat practitioners. They claimed they beat others "legally" because they were following the orders of guards, and the more people they beat, the more they had their prison terms reduced.
Mr. Su Gang was repeatedly beaten by the "beater team". They subjected him to various tortures, such as splitting the legs (see http://www.clearwisdom.net/html/articles/2011/8/4/127216.html), standing punishment, squat punishment, sleep deprivation. Mr. Su Gang had damage all over his body. He suffered unendurable pain, could not move his body or take care of himself, and developed tuberculosis.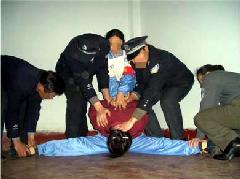 Torture re-enactment: Splitting the legs, also called "splitting the hips" or "widely splitting the hips".