Falun Gong Practitioner Mr. Zhang Lianjun, a Qinghua University Alumnus, Has Eight-Year Sentence Extended
August 10, 2011 | By a Clearwisdom correspondent from Inner Mongolia
Name: Zhang Lianjun (张连军)
Gender: Male
Age: 36
Address: Unknown
Occupation: Unknown
Date of Most Recent Arrest: January 23, 2003
Most Recent Place of Detention: Chifeng Prison in Inner Mongolia (内蒙赤峰监狱)
City: Chifeng
Province: Inner Mongolia
Persecution Suffered: Illegal sentencing, imprisonment, torture, force-feedings, physical restraint
(Clearwisdom.net) Falun Gong practitioner Mr. Zhang Lianjun, a 36-year-old Qinghua University alumnus, is from Taipingdi Township, the Songshan District, Chifeng, Inner Mongolia. He has been illegally detained in Chifeng Prison for eight years. His term was up in January 2011, but prison officials did not release him. The family received notification from the prison that Mr. Zhang could return home on July 18, but the captors then changed it to July 25.
Mr. Zhang entered the Civil Engineering Department at Qinghua University in 1995. He was fortunate to find Falun Dafa and was moved by the profound principles of the universe - Truthfulness-Compassion-Forbearance. He began cultivation practice.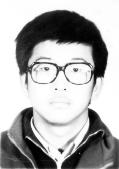 Mr. Zhang as a student
Since the persecution of Falun Gong was launched by the Chinese Communist Party (CCP) in 1999, Mr. Zhang has been arrested multiple times. The regime spies often monitored him.
Arrested and Tortured in Beijing
Haidian District officers arrested Mr. Zhang on January 23, 2003 and took him to detention, where he went on a persecution protest hunger strike and was transferred to the Beijing Police Department Hospital in the basement. The patients there were all from different detention centers in Beijing. Hospital staff handcuffed the patients to their beds almost every day. Sometimes they tortured the patients while "treating" them.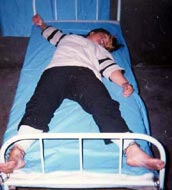 Torture re-enactment: Handcuffing to the bed for a long time
As soon as the patients enter the hospital, the staff put them in heavy shackles weighing over 5 kg-- one side on one foot, the other side chained to a bed. The length of the shackle doesn't allow them to leave the bed area. The staff members only open the shackle for five minutes when patients wash their face in the morning. They are then shackled to their beds for the rest of the day.
Brutal Torture
The persecution in this hospital is even more evil. Practitioners who refuse to be treated are handcuffed and shackled and cannot move. Due to the long-term shackling, some practitioners lose control of their hands. The hospital staff tortures practitioners at will. Whenever practitioners express different opinions they are shackled. The staff often says to practitioners, "It is not a big deal, even if you die."
The guards once mentioned while chatting that they once put a person (not sure if he was a practitioner or not) who was on a hunger strike in one of the drawers in the morgue. They only opened the drawer when it was time to force-feed him daily. The rest of the time they just locked him up in the drawer. After one month that person suffered a mental collapse.
The So-called "Treatment" Aggravated the Persecution
When they force-feed, they intentionally poke around with the tube to make the patients suffer. When they give injections, they also poke the needles in multiple times. Some illnesses that can be cured by conventional treatments became an ordeal as patients were forced to have surgery. Practitioners who were on a hunger strike for several months were returned to the detention center as soon as they started eating. The staff did not give practitioners any time to recover.
Torture re-enactment: Force-feeding
Mr. Zhang had been on hunger strike in that environment and was near death. In August 2003, the family received a phone call from the Beijing Domestic Security Division. They said that Mr. Zhang had a severe head injury and needed to have surgery. They ordered the family to go to the hospital to sign the paperwork.
When the family got there, the staff said the surgery was done successfully. In fact, the so-called surgery damaged his brain, and he ended up with incontinence. He was extremely thin and became bedridden. He could not stand up, could not sit and could not turn over on his own in bed. He had a urethral catheter inserted and was in a trance all day, every day.
Later on Mr. Zhang was carried to the court after having been on hunger strike for one year. He was sentenced to eight years of imprisonment. The evildoers transferred him to Chifeng Prison in Inner Mongolia in May 2004. According to some practitioners, when he first got there he was bedridden and was fed by inmates. He could only have a few bites at each meal. He was naked and incontinent.
Mr. Zhang continued on the hunger strike to protest the persecution. Prison deputy head Qu Baofeng transferred him to the prison hospital ten days later. His parents visited him there and saw him not being able to move in bed.
Within the past several years his parents were sometimes allowed to visit him, and sometimes not. This year, they were able to visit him several more times. Guards always escorted them to Mr. Zhang's bed. Mr. Zhang rarely had any reaction. Sometimes he opened his eyes. Sometimes his lips moved, but he could not be heard. Just like that, he kept on with the hunger strike to protest. It has been seven years and one month. In January 2011 his eight-year term was up, but the prison refused to release him, as stated above.
Chiefly responsible personnel at the Chifeng 4th Prison:
Prison head Kang Zhenghang: +86-476-8425601(Office), +86-476-8425668 (Home), +86-13847646677
Wang Xiaomin: +86-476-8425608 (Office), +86-476-8813398 (Home), +86-13384765666
Zeng Fanwen: +86-476-8425606 (Office), +86-476-8255058 (Home), +86-15848988999
Qu Baofeng: +86-476-8425602 (Office), +86-476-8336865(Home), +86-13304768315
For more contact information, please refer to the original Chinese article.