Sri Lanka: Practitioners Journey Far to Share Falun Dafa with the People of Matara (Photos)
(Clearwisdom.net) On June 26, 2011, practitioners from central Sri Lanka traveled to Matara, a large city on the southern coast of Sri Lanka, to introduce Falun Dafa to the local people. It was a 15-hour round trip journey to Matara and back. They left at 4 o'clock in the morning and returned home at 2:30 the next morning. Because there is a practitioner temporarily living in Matara, practitioners from central Sri Lanka went there to help this practitioner introduce Falun Dafa in an area where most of the inhabitants had never had the opportunity to learn about the practice.
The practitioners demonstrated the exercises and distributed Falun Dafa flyers. The people of Matara eagerly accepted the flyers. Some of them watched the exercise demonstration on their way to the market or during their Sunday walk near the beach.
Two young women from Colombo traveled four hours by train to Matara just to attend the activity. One of them had started learning the exercises from a practitioner who visited her home, and she was determined to use this opportunity to continue learning them. She told her friend about Falun Dafa, who decided to travel with her and also learn the exercises.
One man talked for a while with the practitioners, and was so interested in learning Falun Dafa that he plans to travel to the center of the island, a trip of about eight hours, just to spend more time learning the practice.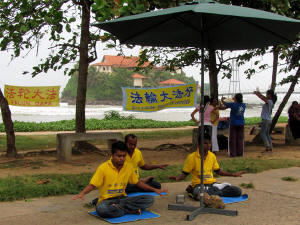 Exercise demonstration while visitors learn the exercises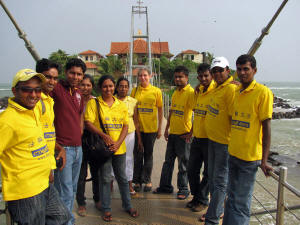 Falun Dafa practitioners from Sri Lanka take a group photo during their trip to Matara to introduce the practice