Falun Gong Warmly Welcomed in Philadelphia during Independence Day Celebration (Photos)
July 08, 2011 | By a practitioner in Philadelphia
(Clearwisdom.net) This year marks the 235th anniversary of American independence. Philadelphia was the first capital of the United States and the city in which the Declaration of Independence was drafted. The city celebrates Independence Day in a big way and over the course of several days.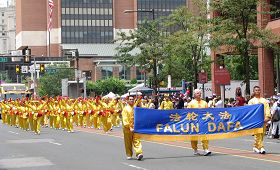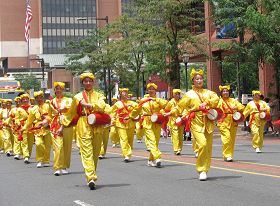 The Falun Gong Waist Drum Team in the Philadelphia Independence Day Parade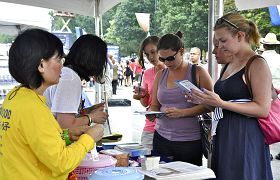 People learn about Falun Gong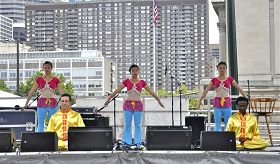 Demonstrating the Falun Gong exercises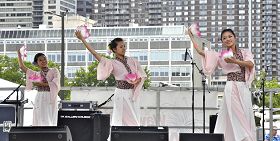 Young practitioners from the local Minghui School perform the Lotus Dance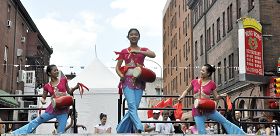 Young practitioners from the Minghui School play waist drums in Philadelphia's Chinatown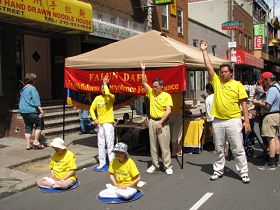 Demonstrating the Falun Gong exercises in Chinatown
Celebratory events stretched out over 11 days this year, including the Independence Day parade itself, a celebration in Chinatown, a food festival, movies, ice cream socials, an outdoor concert, and fireworks. Falun Gong practitioners participated in many of the events. CBS3-TV, one of the biggest TV stations in Philadelphia, invited young practitioners from the Minghui School to be in their video footage. Their Lotus Dance, waist drums, and song "Falun Dafa Is Great" were broadcast live.
The Independence Day parade is the highlight of the celebration. Excited Philadelphians and tourists holding American flags arrived early to line up on the parade route. Participants in the parade included schools, community organizations, the US army, the National Guard, firefighters, veterans, Miss USA 2011, Miss Pennsylvania, and Miss Philadelphia.
The Falun Gong Waist Drum Team, featuring more than 40 practitioners in golden costumes playing in unison, was a crowd pleaser.
After the parade, an outdoor gathering was held on Benjamin Franklin Avenue. It was crowded with people tasting different foods, playing games, and enjoying the outdoor concert. At the Falun Gong booth, practitioners wrote Chinese calligraphy, folded paper lotus flowers, demonstrated the exercises, and explained the facts about Falun Gong to many visitors. Young practitioners from the Minghui School played "Falun Dafa Is Great" on their waist drums, to repeated applause.
On July 2, a grand celebration was held in Philadelphia's Chinatown. More than 30 businesses and organizations participated. Many tourists and locals enjoyed the events, including food, table tennis, and badminton. A four-hour concert with dancing, drama, martial arts, and lion dancing was put on by more than ten Chinese organizations and individuals.
It was the first time for young practitioners from the Minghui School to participate in the large scale performance in Chinatown. Many people heard them perform "Falun Dafa Is Great."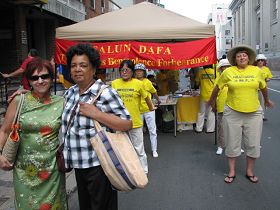 Chris Warchol (left) and friend Marcia Thompson were interested in Falun Gong.
At the Chinatown celebration, the Falun Gong booth was very popular. Many visitors came to learn the exercises and get more information about the practice. Ms. Chris Warchol, an immigrant from Poland, is a fan of Chinese culture. She has a shop of Chinese art and crafts called Q Jade in Chinatown. She wore cheongsam to the event. The Falun Gong exercise demonstration caught her attention, and she bought a Falun Gong exercise teaching DVD and took a paper lotus. She said she had been in Chinatown for many years and had many friends. "I want to learn Falun Gong," she said. Her friend Marcia Thompson lives in Pittsburgh, Pennsylvania, and is also a fan of Asian culture. Ms. Thompson said she made Chinese and Japanese handicrafts to sell online. She wanted to learn about all she could about Asian culture to include in her handicrafts.