Missouri: Falun Gong Practitioners Receive Awards for Three Years in a Row at the Independence Day Parade in O'Fallon (Photos)
July 07, 2011 | By a practitioner in Missouri
(Clearwisdom.net) Falun Gong practitioners in Missouri participated in O'Fallon's Heritage & Freedom Fest Parade on July 4, 2011, and won 2nd Place in the Best Musical Entry category. This is the third consecutive year that the practitioners received an award in the city's annual Independence Day parade.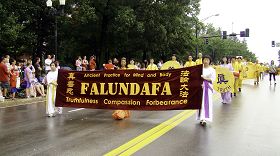 Practitioners participate in the Independence Day Parade in O'Fallon, Missouri.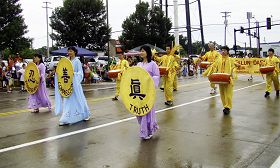 Practitioners march in O'Fallon's Heritage & Freedom Fest Parade on July 4, 2011.
Practitioners perform the exercises on a float with lotus flowers in the O'Fallon parade.
A practitioner hands out flyers along the parade route.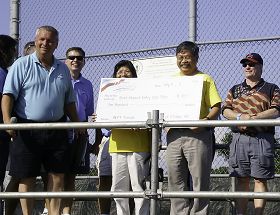 The Mayor of O'Fallon (left) issues an award to Falun Gong practitioners
Practitioners have participated in the Independence Day parade in O'Fallon for seven years and have been warmly received by local people for their traditionally-themed lineup. Many people applauded as soon as they saw the Falun Gong contingent in the procession. Some swayed to the beat of the Tang drums. A boy pointed at the banner reading "Falun Dafa" and shouted, "Falun Dafa is great!" Some followed along with the practitioners who performed the exercises on the float. Many people asked practitioners distributing flyers along the parade route what Falun Gong was all about. As soon as the parade ended, someone called the contact number on the flyer, saying that he wanted to learn the Falun Gong exercises.
At the award ceremony after the parade, the Mayor of O'Fallon issued awards to the winning entries. Falun Gong practitioners received the Best Musical Entry, 2nd Place. Parade director Mr. Foster praised the practitioners' float as being elegant and exquisite. He said that everything was perfectly put together, and very beautiful. The judges were deeply impressed.
Background
Falun Gong, also known as Falun Dafa, is a traditional Chinese spiritual discipline for mind and body. The practice involves slow, gentle movements and meditation. It is easy to learn, enjoyable to practice, and free of charge. Its principles are based on Truthfulness-Compassion-Forbearance. The practice was first introduced by Master Li Hongzhi in China in 1992 and quickly spread by word of mouth throughout China and then beyond. Its beneficial effects in uplifting an individual's physical health, spiritual wellbeing, and moral character, not to mention its positive influence in the community and society as a whole, have been undeniable. In fact, Falun Gong is practiced by over 100 million people in 110 countries. The main works of Falun Gong are available in over 30 languages.
On July 20, 1999, the Chinese Communist Party (CCP) launched a brutal persecution of Falun Gong. Since the start of the persecution, practitioners throughout the world have been speaking out about the truth of Falun Gong and exposing the CCP's crimes in a tireless effort to end the persecution.