Hong Kong: Falun Gong Practitioners Hold a Candlelight Vigil to Call for an End to the Persecution (Photo)
July 24, 2011 | By a Falun Gong practitioner in Hong Kong
(Clearwisdom.net) Two hundred Falun Gong practitioners in Hong Kong braved the rain to hold a candlelight vigil at the Liaison Office of the Central People's Government in Hong Kong (LOCPG) on the evening of July 20, 2011. They mourned their fellow Falun Gong practitioners in China who died as a result of the Chinese Communist Party's (CCP) persecution and called for an end to the unprecedented persecution that has been going on for 12 years.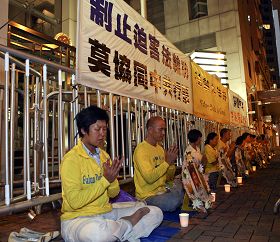 Falun Gong practitioners in Hong Kong mourn their fellow practitioners in China who died as a result of the persecution.
Practitioners held a candlelight vigil both at the front door and the back door of the LOCPG. They sat quietly in the candlelight to mourn those now dead as a result of the persecution in China. The somber scene attracted the attention of many onlookers.
Ms. Fu Xueying was imprisoned for three years when she was in China. She said in tears, "If not for the rescue efforts of Falun Gong practitioners around the world, I wouldn't be alive. I witnessed how Chinese practitioners were tortured. One body after another was carried out. Some of them were tortured to death. Some were disabled."
Facing the brutal persecution, Falun Gong practitioners in Hong Kong have been exposing it with peaceful means for the past 12 years. More and more people have understood the true situation.
Mrs. Zhang has been persistently clarifying facts of Falun Gong in a train station in Hong Kong. She has noticed the change in people's attitude. They used to misunderstand Falun Gong. But now many people stand on the side of Falun Gong and support practitioners. On her way to the candlelight vigil, she helped a tourist from Beijing quit the CCP.
Many practitioners at the vigil shared their experiences after they started practicing Falun Gong. Many used to have hepatitis or anemia. After Ms. Mei started cultivation, her family and friends noticed that she became energetic and outgoing. Ms. Mei, who attended the vigil for the first time, said her colleague introduced Falun Gong to her. She found heartfelt peace and and comfort after she started cultivation. She also discovered that Falun Gong practitioners were straightforward and ethical people and what the CCP said about them was completely wrong.