Singapore: Candlelight Vigil Commemorating Fellow Practitioners Tortured to Death (Photos)
July 23, 2011 | By a practitioner in Singapore
(Clearwisdom.net) On the evening of July 20, 2011, Falun Gong practitioners in Singapore gathered in Hong Lim Park to commemorate those fellow practitioners who were tortured to death by the Chinese Communist Party. They also called for help to stop the outrage perpetuated by the CCP.
In the evening, the practitioners lit candles and held wreaths and portraits of fellow practitioners who were tortured to death by the CCP.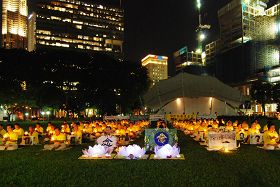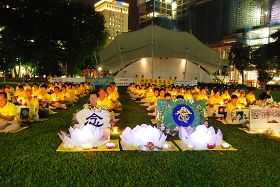 Singapore practitioners' ceremony in Hong Lim Park
Dr. Huang, Chairman of the Singapore Falun Dafa Association, said during an interview, "For 12 years, facing brutal persecution, Falun Gong practitioners have peacefully protested the persecution. It is the perpetrators who are committing the crime of genocide that will be tired in the court of history."
The solemn scene caught the attention of many passerby. Some accepted flyers, some asked for more information, while others took photos. One lady said that it was the first time she had heard of Falun Gong. She said after learning about the persecution, "Such an event is meaningful. More people should know about the persecution. Modern people pursue material things. This is a moving event that appeals to a person's conscience."
Singapore practitioners' commemoration activity in Hong Lim Park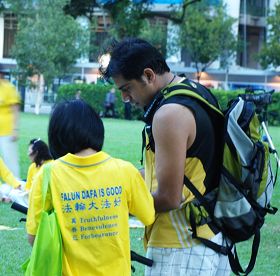 Before the event, passersby listen to a practitioner's explanation
July 20 is a special day. On that day 12 years ago, Jiang Zemin, the then head of the CCP, initiated the persecution of Falun Gong. Tens of thousands of Falun Gong practitioners have since been brutally persecuted. It has been documented that at least 3428 Falun Gong practitioners have been tortured to death. Falun Gong practitioners across the world started truth-clarification activities to stop the persecution and call for an awareness of conscience.