Ireland: Falun Gong Practitioners in Dublin Host a Rally and Parade to Protest the Persecution
July 23, 2011 | By a Falun Dafa practitioner from Ireland
(Clearwisdom) On July 16, 2011, Falun Gong practitioners in Ireland rallied and paraded in Dublin, calling for an end to the persecution of Falun Gong that begin in China on July 20, 1999. The activity was actively supported by people from all walks of life. Participants condemned the Chinese Communist Party's brutal persecution and called for worldwide awareness to help end it at once.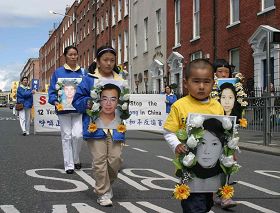 Falun Gong parade in Dublin, Ireland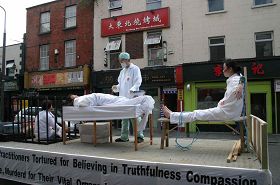 A live organ harvesting reenactment passes Chinatown in Dublin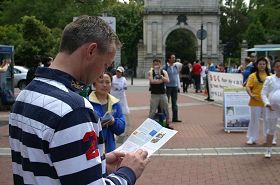 Reading a flyer about Falun Gong
Dáil Éireann Member Ms. Maureen O'Sullivan spoke at the rally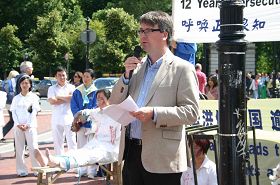 A representative from "Friends of Falun Gong"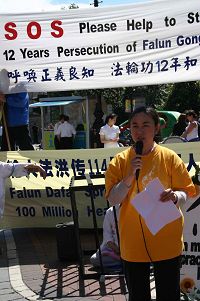 A Falun Gong representative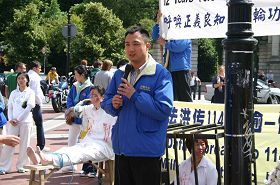 Falun Gong practitioner Liu Feng told of his own experience of being tortured in a forced labor camp in China.
Falun Gong exercise demonstration.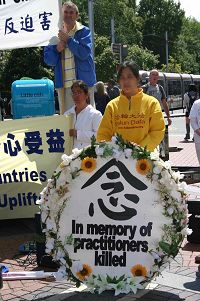 Commemorating fellow Falun Gong practitioners who have died as a result of the persecution

Elected officials attended the rally in person or sent letters of support for Falun Gong practitioners' endeavors to end the persecution. Many people observed the rally and many signed their names on a petition calling for an end to the persecution. Some watched the exercise demonstration and asked for information to learn the exercises. Many people also offered to help to end the persecution.