Vicious Conduct of Officials at the Qinglongshan Brainwashing Center in Jiansanjiang, Heilongjiang Province
July 19, 2011 | By a Clearwisdom correspondent from Heilongjiang Province
(Clearwisdom.net) Falun Gong practitioners Ms. Qi Chunxia, and Ms. Yu Guorong from Heilongjiang Province were recently detained in the Qinglongshan Brainwashing Center.
Agents from the Chuangye Farm Police Department in Heilongjiang Province broke into Ms. Qi's home in mid-June 2011, trying to seize her. She firmly resisted the illegal arrest, but was still detained in the Brainwashing Center at the Qinglongshan Farm. Ms. Qi had been arrested twice before, first in 2005 for distributing Falun Gong informational materials, and second to the Qinglongshan Brainwashing Center on January 16, 2011.
Police officer Lu Weibin suddenly broke into Ms. Yu Guorong's residence with a few undercover 610 Office agents from the Jidong County 851 Farm Police Department at 9:00 a.m. on June 9, 2011. They illegally arrested her. They dragged her into the police vehicle without giving her time to put on her shoes and pants and took her to the Jiansanjiang Brainwashing Center. Before that, in 2001 Ms. Yu had been sentenced to two years of forced labor for going to Beijing to appeal for Falun Gong. She suffered from various kinds of brutal tortures in the Wanjia Forced Labor Camp, including severe beatings, hanging up, and force-feeding.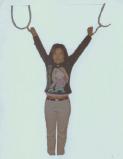 Torture Re-enactment : Hung up by handcuffs
Qianjin Farm Police Station agents illegally arrested Mr. Yusongjiang, Ms. Pan Shurong, and Ms. Li Jingfen, all from Qianjin Farm, on April 23, and 24. They were held at the Qinglongshan Farm Brainwashing Center for over a hundred days. Mr. Yu was brutally beaten as soon as he arrived. At eight in the evening he was handcuffed onto the two beds, one on each side of him. He could neither sit nor stand up. He was handcuffed in that position until five the next morning. During the entire evening, the six guards beat him cruelly several times. The scars the handcuffs left on his wrists were still visible several months later.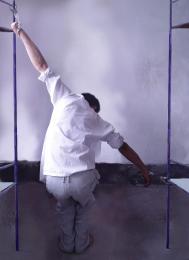 Torture Re-enactment : Cuffed between beds
Ms. Zhao Fengrong, Mr. Zhang Xizeng and Zheng Jie were illegally arrested separately on August 22, 2010 and were detained in the Qinglongshan Brainwashing Center. Mr. Zhang was arrested on August 22 at work. Head Fang Yaochun ordered the guards to handcuff Mr. Zhang onto the two beds on each side of him. He could neither stand nor sit. He was handcuffed in that position for ten hours. Mr. Zhang's wife and daughter went to the center to see him, and his wife Zhang Lihua was also illegally arrested.
Former Qinglongshan Brainwashing Center head Sheng Shusen often pinched the faces, legs and other body parts of female practitioners in the center. He also used profane language to threaten them. He forced the practitioners to watch DVDs and read materials that slander Falun Gong. He threatened the practitioners that he would sentence them to forced labor or prison.
Persons responsible for the abuse and mistreatment:
Wang Xiaochun, Chinese Communist Party head from the Jiansanjiang Political and Law Bureau, 86-454-5791223(Office), 86-13352545555, (assumed the position in 2010)
Liu Bo, Chinese Communist Party deputy head from the Jiansanjiang Political and Law Bureau 86-454-5790507(Office), 86-454-5723687(Home), 86-454-5710669
Li Chunyao, Jiansanjiang 610 Office head, 86-454-5790624, 86-454-5725790(Home), 86-13039623223
Sheng Shusen, Qinglongshan Brainwashing Center deputy head, 86-13054364958
Fang Yaochun, Chinese Communist Party head at the Qinglongshan Brainwashing Center (also deputy head of the Qinglongshan Farm Police Station), 86-13846125557, 86-454-5716771
For additional names and information of these vicious people, please read the original article in Chinese.