Illinois: Falun Gong Group Presents a Colorful Procession in Evanston's 4th of July Parade (Photos)
(Clearwisdom.net) On the 4th of July, Falun Gong practitioners from Chicago and nearby areas participated in the Independence Day Parade in Evanston. More than ten thousand people watched the parade.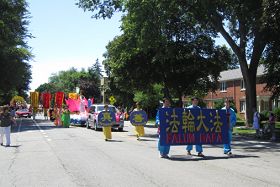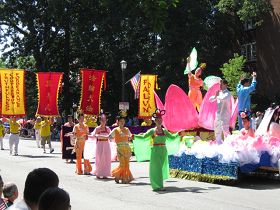 The Falun Gong group's procession
The Independence Day Parade in Evanston has a 90-year history and attracts over ten thousand people every year. In 2003, it was ranked by the Country Home magazine as the third largest Independence Day Parade in the US.
More than 140 groups participated in this 1.5 mile long parade, which took place at 2 o'clock in the afternoon. Local politicians, including the governor, state council members, and mayors, as well as local businessmen, churches, schools, library, theaters, and other non-government organizations, such as Amnesty International and local clubs, participated in the parade.
The Falun Gong group presented the crowd with a colorful procession. The "celestial maidens" modeled ornate traditional Chinese clothing and headdresses while other practitioners demonstrated the exercises on the float. The Falun Gong procession was warmly received by the spectators.