Sydney, Australia: Divine Land Marching Band Receives Champion Band Award for Its Performance in the 2011 Blacktown Fiesta Street Parade (Photos)
(Clearwisdom.net) At 7 p.m. on June 29, 2011, an awards ceremony was held at Blacktown City Hall to issue awards to the winning entries of this year's Blacktown Fiesta Street Parade. The Falun Gong group's Divine Land Marching Band won the Champion Band award.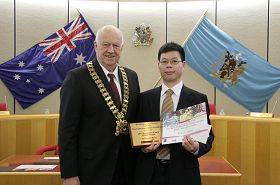 Mayor of Blacktown issues award to the Falun Gong group
The Divine Land Marching Band wins Champion Band Award in the 2011 Blacktown Fiesta Street Parade
The City of Blacktown held the annual Fiesta Street Parade on the morning of May 28. It is the biggest community festival in western Sydney. Fifty-five groups participated in the celebration. The Falun Gong group was the first procession in the parade.
Falun Gong practitioners' float carried a large model of the book Zhuan Falun, a golden lotus flower, and a group of practitioners demonstrating the exercises for the spectators. The waist drum troupe played to the music "Falun Dafa Is Good." A report on the Falun Gong group's participation in the parade can be found at: http://clearwisdom.net/html/articles/2011/5/31/125652.html.
During the awards ceremony, a city government official announced that the Falun Gong group will be the lead procession again next year.