Chief of Ningxia Autonomous Region 610 Office Sued in Germany (Photos)
(Clearwisdom.net) On June 21, the International Society for Human Rights (IGFM) and the Falun Dafa Association of Germany filed a lawsuit against visiting Chinese Communist Party official Su Deliang for his role in the persecution of Falun Gong practitioners in China.
IGFM and Falun Gong practitioners hold banners in front of the Woellstein Prison
Su Deliang is a member of the CCP Ningxia Autonomous Regional Committee, secretary of the Politics and Law Commission of the Ningxia CCP Committee, and the chief of the provincial Public Security Bureau. Since 2005, he has also been head of the provincial 610 Office. Su was invited to Germany by the Rheinland-Pfalz government. One of the activities on his German itinerary was to visit a prison in Woellstein.
On June 21, IGFM and the Falun Dafa Association filed a lawsuit in a Mainz court. The document described the tortures that Su has ordered to apply to Falun Gong practitioners in China, including beatings, forced-feeding, pouring feces on practitioners, beating with electric batons, rape, sleep deprivation and brainwashing. The tortures have led to the death of several practitioners. In the lawsuit document, the plaintiffs outlined five cases in detail.
In front of the entrance to Woellstein Prison, representatives from IGFM and the Falun Dafa Association held a banner reading, "Su Deliang is sued in Germany for torturing Falun Gong practitioners." A representative from IGFM stated that Su has violated basic human rights and is responsible for the death of several Falun Gong practitioners. The representative said that Su belongs in prison – as an inmate.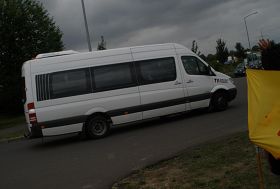 Su Deliang's van passes by the banner announcing the lawsuit against him
Police officers working at the prison learned about Su's crimes and the lawsuit, and many expressed their support for the lawsuit.
A local online news publication, Allgemeine Zeitung Rhein Main Presse, interviewed the Falun Gong practitioners and IGFM representatives. They reported the story with the headline: "Gestapo Methods." The article said that the 610 Office has been suppressing and persecuting Falun Gong for more than 10 years.
Coverage of the lawsuit in Allgemeine Zeitung Rhein Main Presse