A Small Town in Italy Welcomes Falun Gong (Photos)
June 26, 2011 | By a practitioner in Italy
(Clearwisdom.net) June 18 to 20, 2011 marked the annual flower festival in Genzano di Roma, a small town outside of Rome. The flower festival has been celebrated every year in the downtown area for more than two centuries. Falun Gong practitioners participated in this celebration for the first time this year. They introduced Falun Gong to visitors and exposed the Chinese Communist Party's (CCP) persecution in China. Among the many people who expressed interest in Falun Gong were a number of children.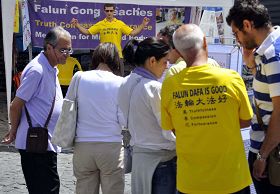 Practitioners introduce Falun Gong at the annual flower festival in Genzano di Roma
A young boy learns Falun Gong
Elina (first from left) and friends learn the fifth Falun Gong exercise
Elina, a second grade student, could understand the message in the Falun Gong flyer and posters. Seeing a painting showing a small, sorrowful girl holding a box containing the ashes of her father who was tortured to death by the CCP, she asked while pointing at the photo on the ash box, "Is that the girl's dad?" "Yes," answered a practitioner. The practitioner explained to her that her father was tortured to death by the CCP for his belief in Truth-Compassion-Forbearance. Elina asked in a sorrowful voice, "The young girl lost her parent. What can she do?"
Elina's parents had a stand beside the Falun Gong practitioners'. She spent the whole weekend with the practitioners and learned the five Falun Gong exercises and how to make folded paper lotus flowers.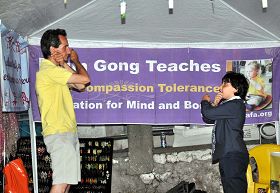 Francesco learns Falun Gong
Francesco is 8 years old. He came to the Falun Gong practitioners' stand on Saturday evening and listened to a practitioner's introduction about Falun Gong. Francesco said he would come to learn the exercises on Sunday. On Sunday afternoon, Francesco and his parents came back. He told his parents, "I must go to the Falun Gong stand again. It is very important." He learned the first four exercises carefully.