Associate Professor at Hunan Finance Institute Detained for Over 50 Days, Eight Others Arrested (Photo)
June 25, 2011 | By a Clearwisdom correspondent from Hunan Province, China
(Clearwisdom.net) On the afternoon of April 28, 2011, officers from Jinpenling Police Department in Changsha, Hunan, broke into Ms. Xiong Xiaolan's home. Ms. Xiong, over 60, is a Falun Gong practitioner. She is retired from the Hydraulic Mechanical Plant in Hunan Province. Ms. Xiong was taken away, along with her eight guests, including retired Associate Professor Gao Desi. The nine were arrested because they practice Falun Gong.
Although no legal procedures were followed, Gao Desi, Xiong Xiaolan, and the rest were sent to a brainwashing center run by the 610 Office of the Changsha Legal Education Center, which is located in Laodaohe Town, the Kaifu District, Changsha. In the brainwashing center, the nine were separated and imprisoned. Each was confined in a small room about 10 sq. meters. The 610 Office hired people to watch them over day and night. The practitioners lost their personal freedom. Meals had to be sent in by their monitors. They were not allowed to leave their rooms or do the exercises in the room.
Road sign for Laodaohe Brainwashing Center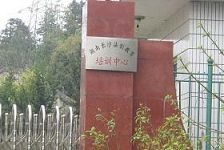 Laodaohe Brainwashing Center Gate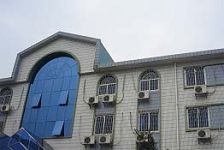 Laodaohe Brainwashing Center building (4 floors, Falun Gong practitioners are usually detained on the 3rd floor)
On May 20, after three weeks of detention, Falun Gong practitioners Ms. Xiong Xiaolan, Ms. Cai Xin'ou, Ms. He Minna, and Ms. Li Hui were sent by the 610 Office to Baimalong Women's Forced Labor Camp in Zhuzhou. Ms. Xiong and Ms. Cai did not pass the physical exam and were returned. Huang Yonghui and Liu Mengfeng were transferred to a detention center, but the two have since been released. Two practitioners from other regions, including Ms. Sun from Wuhan, were taken away by officials from their local area. Mr. Gao Desi, over 70, is still detained in Laodaohe Brainwashing Center. The Changsha 610 Office, the Hunan Province 610 Office, the Yuelu District 610 Office, and the 610 Office at the school where Mr. Gao teaches have all participated in persecuting him.
A retired associate professor, Mr. Gao Desi, taught in the Finance Department at Hunan Finance Institute, which is now part of Hunan University. He is well respected in the community. In 1996, he began to practice Falun Gong and benefited a great deal. In April 2001, he was arrested and sentenced to seven years in prison. He was detained in Wangling Prison in You County, Hunan Province, for seven years.
Over seven weeks ago Mr. Gao was again detained by the 610 Office, this time in Laodaohe Brainwashing Center. His wife, who is not very well and cannot take care of herself, is affected greatly by her husband's absence.